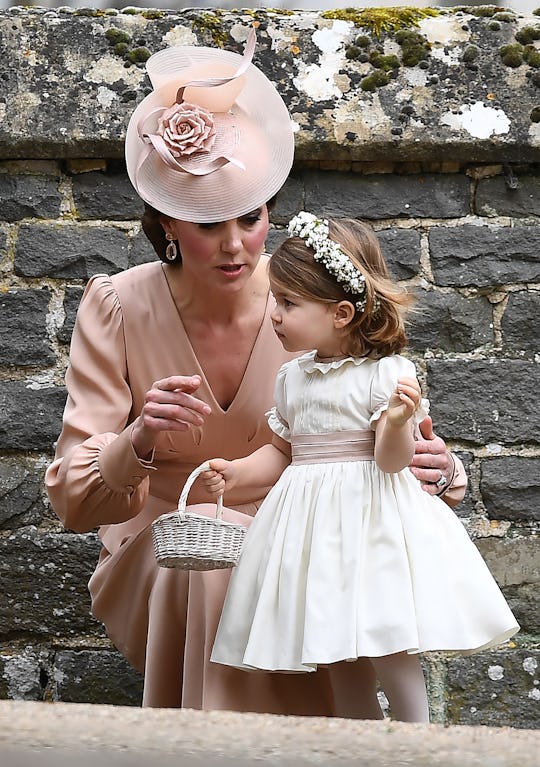 WPA Pool/Getty Images Entertainment/Getty Images
Get Ready, Because Princess Charlotte Will Soon Reprise Her Role As A Royal Bridesmaid
She's just the tender age of 3, but she's already such a wedding pro that she is in high demand. And as a royal, the world really wouldn't expect any less from her. Just months after stealing the show at her uncle Prince Harry's wedding to Meghan Markle this past May, it seems that Princess Charlotte will be a royal bridesmaid again, this time in the wedding of Princess Eugenie.
Princess Eugenie is set to wed Jack Brooksbank this fall and has released word that her first cousin will be leading the bridesmaids on the big day when the happy couple exchange vows at St. George's Chapel, according to The Express. Prince George will also be involved in the event, serving as a page boy, the publication reported.
One thing it's important to note right off the bat is that, in England, the terms bridesmaid and flower girl are interchangeable and actually relate more to age than role, according to Town & Country. This distinction came up during the royal wedding of Prince Harry and Markle, when those of us on the west side of the pond got a little confused by the very young bridesmaids.
An expert on the royal family told Town & Country that if you look all the way back to Queen Elizabeth's wedding you can see a history that the bridesmaids are almost all teens and children. In fact, the Duchess of Cambridge, Kate Middleton, broke tradition by having her sister Pippa serve as a maid of honor, according to ABC News. That made for an iconic moment when Pippa, looking regal in her white gown, led the other bridesmaids in by their hands.
It was Pippa's own wedding where Princess Charlotte kicked off her career as a bridesmaid, a role she continued at the royal wedding earlier this year, according to Harper's Bazaar. Everyone knew she came close to stealing the show that day, sticking her tongue out in the car on the way to the chapel and giving a little wave on the steps, but she may be more confident than the world even realizes.
On the day of Princess Eugenie's nuptials, she'll be leading the bridesmaids down the aisle, as The Express reported, and there's some belief she may be well up to the task. A guest at the wedding of Prince Harry and Markle told People that Princess Charlotte was "really sweet. There was one girl who wanted to go and [Charlotte] said, 'No you can't go yet. We have to wait until we are asked.' She was really organized!"
Her charges down the aisle that day will be Theordora Williams, daughter of singer Robbie Williams; Maud Windsor, daughter of Lord Freddie Windsor and Sophie Winkleman; and Ines de Givenchy, daughter of JP Morgan exec Olivier de Givenchy and his wife Zoe, according to The Express. The publication also reported that an expert on the royals, James Brookes, believes that Princess Eugenie will break tradition too and include her older sister Beatrice in the wedding party.
Last year the Duchess of Cambridge, Kate Middleton, spilled the beans that Princess Charlotte does like to take charge, according to People. While speaking with a group of service members and their partners she had a chat with a woman who later told the magazine, "She said that Charlotte is growing up really fast. She is the one in charge." While that's incredibly adorable, any mom of a strong-willed child will also testify that they can be a challenge at times, so I can't say I envy duchess too much.
But the Cambridge children have been (mostly) impeccably well-behaved in public, so there's little doubt that they'll both perform admirably on the big day and give Princess Eugenie a wedding to remember. If not, it will be an event the rest of us will never forget.