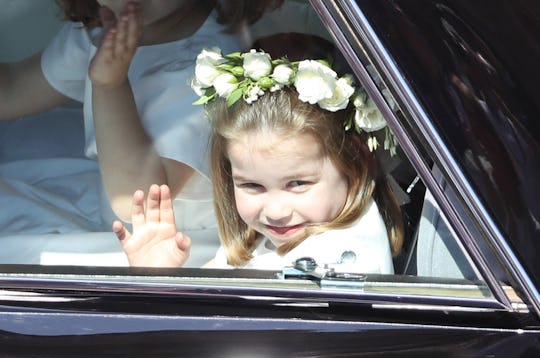 WPA Pool/Getty Images Entertainment/Getty Images
Princess Charlotte's Hobbies Probably Aren't Too Different Than Your Children's
With all of the attention on the arrival of Prince Louis and the marriage of Prince Harry and Meghan Markle, it was easy for royal siblings Prince George and Princess Charlotte to fly under the radar for a bit. Except, of course, on the day of the wedding itself, during which they practically stole the show with their cuteness. A renewed interest in everything related to Prince William and Kate Middleton's older children happened practically overnight because of their roles in the royal wedding. And when it comes right down to it, Princess Charlotte's hobbies probably aren't too different than yours.
Charlotte Elizabeth Diana turned 3 on May 2, less than two weeks after the birth of her baby brother, Prince Louis. To mark this milestone — and to capture the new little prince's first official portrait in one, fell swoop —Kensington Palace released a pair of photos on May 5, People reported. One of the shots featured Princess Charlotte snuggling her little brother while kissing him gently on the head. As you might know, Charlotte is the second child of the Duke and Duchess of Cambridge, and she's currently fourth in line to the royal throne, CBS News reported.
Aside from her royal status, though, Princess Charlotte's list of favorite things to do likely isn't that different than that of an average preschooler. Such as...
Dancing
While at a Commonwealth Day reception in March, Prince William was talking with the Prime Minister of Malta, Joseph Muscat, and his wife, Michelle Muscat, when he revealed one of Princess Charlotte's favorite hobbies, Town & Country magazine reported. "My daughter Charlotte loves dancing," the Duke of Cambridge told the couple. Which makes complete sense, if you ask me. I mean, what little kid doesn't love to bust a move from time to time?
Speaking Spanish
OK, OK. So not every 3-year-old will have "speaking a second language" on their list of hobbies. But apparently Princess Charlotte has picked up on quite a few Spanish words, thanks to her Spanish-speaking nanny, Maria Teresa Turrion Borrallo, Hello! magazine reported. And hey, if your kiddos are anything like mine, they might be able to count to 10, say "hello," "goodbye," and "my name is" in Spanish — all thanks to their pal, Dora.
Create Homemade Gifts
Question: What do you get for a queen who literally has it all — including matching umbrellas for every outfit? Answer: Homemade gifts from the kids, of course! Princess Charlotte — just like any young grandchild/great-grandchild — puts her creativity to work in order to create handmade gifts for Queen Elizabeth II. "It's quite hard to know what to get the Queen to be honest," Prince William said in April 2017, during an interview with BBC Radio, PopSugar reported. "Now we have grandchildren around they can make things!" Yep. Been there, done that, William.
Watching Peppa Pig
Few things in life have the ability to make all three of my children sit quietly and simply enjoy something together without bickering. And Peppa Pig is one of them. Well apparently, my kiddos have the same taste in television shows as the children of Prince William and Kate Middleton because Princess Charlotte is all about Peppa Pig, People reported. I knew we were onto something.
Helping Mom In The Kitchen
If you're a control freak like me, you might not necessarily want your children to lend a hand in the kitchen — because ingredients will wind up literally everywhere — but that doesn't stop them from asking. Kate Middleton revealed in March that her older two enjoy helping with a particular dish. While the Duchess of Cambridge was visiting St. Luke's Community Centre in London, she noted, "I've done that with George and Charlotte — making pizza dough. They love it because they can get their hands messy," Hello! magazine reported. True that, Kate. Mine also love to sneak pepperoni when they think I'm not paying attention.
Bossing Around Her Brother
Bossing around siblings might be more of a tendency than an actual hobby, but you'd never know the difference at my house. And apparently, Princess Charlotte enjoys keeping tabs on her big brother, George, Elle reported. Back May 2017, Queen Elizabeth II was talking with a 10-year-old girl and asked if she "looked after" her 6-year-old sister. The girls' mom replied, "It's the other way around." The queen, in turn, replied, "It's like that with Charlotte and George." Hey, great-grandma knows what's up.
So your children will never be in line for any royal throne — so what? They do have the exact same hobbies as an actual princess, after all. And that makes them practically royal by association.