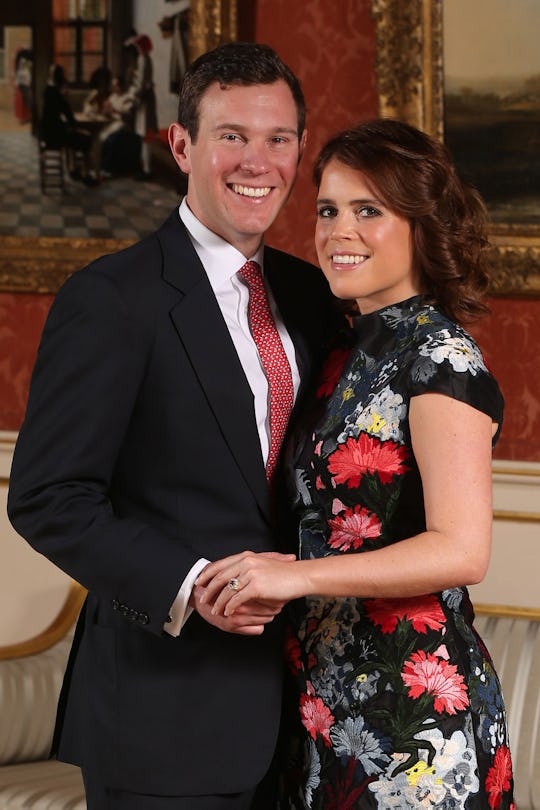 WPA Pool/Getty Images Entertainment/Getty Images
Princess Eugenie & Jack Brooksbank Announced Their Wedding Details & Here's What We Know
The world may be eagerly awaiting Prince Harry and Meghan Markle's highly-anticipated May nuptials, but the event will actually be the first of two royal weddings scheduled for 2018. On Jan. 22, Buckingham Palace announced the engagement of Princess Eugenie and her fiancé Jack Brooksbank, and following the announcement, her parents, the Duke and Duchess of York gushed about the news on their respective social media accounts. But on Friday, Princess Eugenie and Jack Brooksbank announced their wedding details, according to People, and it sounds like the wedding will round out a very big year for the family.
Though Princess Eugenie certainly hasn't had to deal with the same kind of scrutiny over her love life that her cousins, Prince William and Prince Harry have, news of her upcoming wedding is still a pretty big deal. For one, the 27-year-old princess is currently eighth in line for the British throne — like the princes, Princess Eugenie's grandmother is the Queen — and she's also the first child of the (seemingly very excited) Duke and Duchess of York to marry.
In a statement shared on Twitter by her father, Princess Eugenie and Brooksbank confirmed that they will be tying the knot on Oct. 12, 2018 — and that they'll be doing so at St. George's Chapel at Windsor Castle, the same location where Prince Harry and Meghan Markle's wedding will be held.
It's not yet known what royal watchers can actually expect from the couple's wedding — Will it be a big event? Will it be televised? Will we be able to purchase a commemorative china plates featuring their happy, engaged faces? — but naturally, there has already been plenty of speculation. For one, The Mirror reported that Princess Eugenie's wedding is likely to be much more low-key than Prince Harry's — primarily because he is the son of a future monarch (Prince Charles), and therefore his wedding is expected to have more royal pomp and circumstance. That means that while the world will likely see plenty of photos of Princess Eugenie and her soon-to-be-husband on their wedding day, it probably wont be televised William-and-Kate-style.
As for possible wedding party picks, Princess Eugenie's sister, Princess Beatrice, is expected to act as maid of honor, while her good friend, Cressida Bonas (who also happens to be an ex-girlfriend of Prince Harry), has been named as a potential bridesmaid, according to The Mirror.
Other rumored details about the year's second most anticipated royal wedding? The couple likely didn't have a ton of say over their actual wedding date. Since these events have to also take into account all the other royal commitments on the calendar — which are often booked many months in advance — the Duke of York originally explained that it would take some time to narrow down an official date. According to The Daily Express, he said:
It's now about finding the time and the date and getting it all organized, I think probably in the autumn some time, is the time every is looking at. We can't fix a date yet, we've got to look at everybody's diaries – it's a bit more complicated than that.
And there really was a lot to consider. According to the Daily Mail, the couple actually wanted to tie the knot in September, but were told it wouldn't be possible, since the Queen typically spends the month on vacation at Balmoral in Scotland. Then there's also the fact that newlyweds Prince Harry and Markle will be expected to embark on at least one foreign royal tour after their May wedding, suggesting that October was the earliest date that would have actually worked. Yet, Princess Eugenie wasn't the only royal who may have had to make accommodations: with the Duke and Duchess of Cambridge set to welcome their third child in April, it's thought that Prince Harry and Markle wouldn't have been able to choose an earlier date than May 19 when it came to planning their own wedding.
The October wedding date may not have been what they had hoped for, but it also doesn't seem to be bothering them much: the happy couple are said to be super excited to be tying the knot seven years after they met on a ski trip in the Swiss Alps, according to Vanity Fair. These days, Princess Eugenie — a Newcastle University grad — works at art galley Hauser & Wirth in London, while Brooksbanks, once the manager of London nightclub Mahiki (a once-very-popular royal hangout), is now a wine merchant, the publication reported.
The couple got engaged on vacation in Nicaragua in January, according to Vanity Fair, and once they're married, it's possible they might even become neighbors with Prince Harry and Markle, as well as the Duke and Duchess of Cambridge— Princess Eugenie is said to be entitled to call an apartment at Kensington Palace home after her wedding.
Sure, it might seem like playing second-fiddle to your super famous royal cousins might be kind of lame, but really, it honestly seems like Princess Eugenie has the best of both worlds. As the Queen's granddaughter, she gets a royal title (and all the perks that go along with it), without having to live with the pressure of being in the public eye as much as the princes do — and she gets to have a more intimate wedding.
Sure, Meghan Markle and Kate Middleton might have envious lives, but judging by what we know of her engagement, it might just be Princess Eugenie who really has it made after all.
Check out Romper's new video series, Romper's Doula Diaries:
Watch full episodes of Romper's Doula Diaries on Facebook Watch.