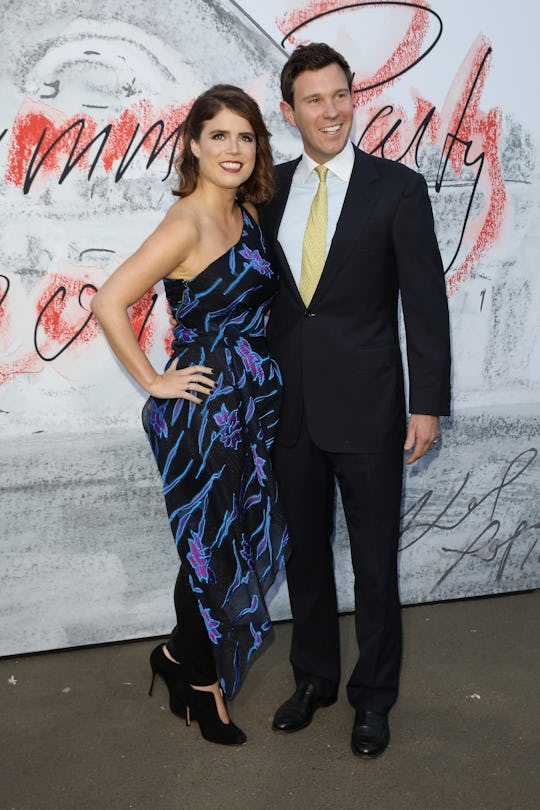 Tim P. Whitby/Getty Images Entertainment/Getty Images
Princess Eugenie Is Planning To Have A Big Family With Her Future Husband
Princess Eugenie and Jack Brooksbank are still a couple of months away from tying the knot at Windsor Castle, but Eugenie's mom, Sarah Ferguson (aka Sarah, Duchess of York), is already looking ahead to a post-wedding pregnancy announcement. Sarah Ferguson said Princess Eugenie and Jack Brooksbank are looking forward to having kids, and honestly, given the amount of support and excitement they appear to be getting from their families already, I can't exactly say I blame them. In a recent interview with BBC's The One Show, Ferguson said that Eugenie and Brooksbank are "thrilled" at the prospect of having children, and that since Ferguson writes children's books and — according to her own assessment — is "a child" who "[hasn't] grown up," they're also totally psyched to be able to have her around to help with babysitting duties.
But before she gets to be a royal grandmother, Ferguson will, of course, have to be mother-of-the-bride. And given that she seems particularly happy about her daughter's choice of spouse, it's another role she also sounds totally thrilled about. Ferguson gushed about Brooksbank in the interview, calling him an "amazing bringer of light and ... joy," and said that he fits right in with his fiancée's famous family. And it certainly doesn't seem to hurt matters that he happens to manage a tequila company. Ferguson joked,
The good news is that Jack works as the European manager for Casamigos tequila, so I'm perfect. He'll just hand me the tequila and say 'come on mother-in-law down it!'
In February, Princess Eugenie's father, Andrew, the Duke of York, confirmed that she and Brooksbank would tie the knot on Oct. 12 at St. George's Chapel at Windsor Castle, which is actually the same location where Prince Harry married Meghan Markle earlier this year. And, like Meghan and Harry, Eugenie and Brooksbank will also be inviting the public to share in their big day. In July, Buckingham Palace announced that royal fans in the UK could apply online to be one of 1,200 people chosen to witness the royal wedding from inside the Windsor Castle grounds.
Being the bride at the second most high-profile royal wedding of the year certainly seems like it would be a lot of pressure, but Princess Eugenie recently told British Vogue that she was taking it all in stride. She said,
I'm not stressed at all. It's very nerve-wracking because you want it to be perfect but then you realize that you're going to be with the person you love forever and nothing else really matters.
Part of that composure, according to Ferguson, is likely due to the princess already having a very clear idea of what she wants her wedding to look like. Ferguson told The One Show,
Eugenie is very controlled, she is so sorted. She knows exactly what she wants. Jack and Eugenie are very contemporary, they are very inclusive, and they are all about love, and they want this wedding to be about that — to include everybody and to really absorb the love they have for each other with everybody else.
But from the sounds of it, Ferguson herself may not be quite so "controlled" when it's time to watch her little girl walk down the aisle. According to Town & Country, Ferguson said that she "[understands] why mothers cry at weddings now," adding, "all my life I thought, 'Oh, what's she crying for?' It's lovely, it's a great day."
As excited as Princess Eugenie must be ahead of her wedding day, it's pretty sweet to hear her mother sound just as thrilled. And while the princess may want to take a moment to enjoy newlywed life with her new husband after their wedding, it definitely sounds like when they are ready to expand their family, Ferguson will be totally ready to be there in whatever way she possibly can.