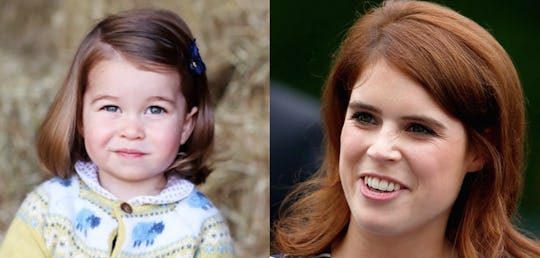 Handout/Getty Images Entertainment/Getty Images/ Alan Crowhurst/Getty Images Entertainment/Getty Images
Princess Eugenie's Childhood Photos Prove Princess Charlotte Is Her Little Lookalike
In case you haven't heard the exciting news, Princess Eugenie will walk down the aisle at St. George's Chapel, Windsor Castle to marry her fiancé, Jack Brooksbank, on Oct. 12. Many people are pumped about the nuptials, to put it mildly, and it seems like everyone is talking about Princess Eugenie at the moment. And one cute detail that has been brought up concerns how much Princess Eugenie resembles 3-year-old Princess Charlotte. But if you aren't convinced about the similarities yet, you need to check out Princess Eugenie's childhood photos.
Princess Eugenie is cousin to Prince William and Prince Harry, which makes her a second cousin to Princess Charlotte, Prince George, and Prince Louis. To break it down even further, Queen Elizabeth II is grandmother to Princess Eugenie, Prince William, and Prince Harry, while she is the great-grandmother to Prince William's three kids.
Considering Princess Eugenie and Princess Charlotte share common ancestors (close ones at that), it's not too surprising they look alike. But what is especially notable? How striking their similarities appear to be.
Take this photo the Duke of York's Instagram account shared Thursday. "Ahead of their Wedding Day tomorrow, Princess Eugenie and Jack Brooksbank have shared these family photographs from their childhoods," the caption read.
Princess Eugenie (she's the one on the right) definitely has Princess Charlotte's smile (and nose!). It's super cute. Check out this photo of little Charlotte below for comparison.
And on Wednesday, The Duke of York shared a precious snap of Princess Eugenie and her sister, Princess Beatrice, hugging one another. "A young Princess Eugenie and Princess Beatrice #Siblings," the post said.
I don't know about you guys, but I'm getting strong Princess Charlotte and Prince George vibes here. Princess Eugenie has the same hair color as Princess Charlotte, while Princess Beatrice's locks are similar to Prince George's. I mean, check out Charlotte's hair here!
To get more specific about the pair's twinning ways, look no further than this portrait of Princess Eugenie at a young age. Both Princess Charlotte and Princess Eugenie have gorgeous blue eyes. Too precious.
And here's Princess Charlotte...
Princess Eugenie's baby blues made another appearance in this throwback photo she shared on March 30.
Besides their looks, it seems like Princess Eugenie and Princess Charlotte have similar spirits. Princess Eugenie appears to have the same pizzazz and spunk Princess Charlotte has, as evidenced by these photos of the now bride-to-be eating cotton candy, playing soccer, and making a silly face.
And as you'll recall, Princess Charlotte had quite the moment at Prince Harry and Meghan Markle's wedding when she stuck her tongue out at photographers.
Last but not least, there's this sweet photo of Princess Eugenie as a young bridesmaid. The photo is particularly sweet because Princess Charlotte will be a bridesmaid in Princess Eugenie's upcoming wedding, according to CBS News.
Although it's not yet clear what Princess Charlotte will wear to Princess Eugenie's wedding, I think it's safe to say she'll look adorable no matter what. And it's sweet to think that one day — if Princess Charlotte ever decides to get married — she'll have her own bridesmaid throwback to share. Like these...
WPA Pool/Getty Images Entertainment/Getty Images
WPA Pool/Getty Images Entertainment/Getty Images
WPA Pool/Getty Images Entertainment/Getty Images
WPA Pool/Getty Images Entertainment/Getty Images
On that note, here's to Princess Eugenie and Princess Charlotte twinning. Not only are their shared similarities sweet, but they're also so endearing.