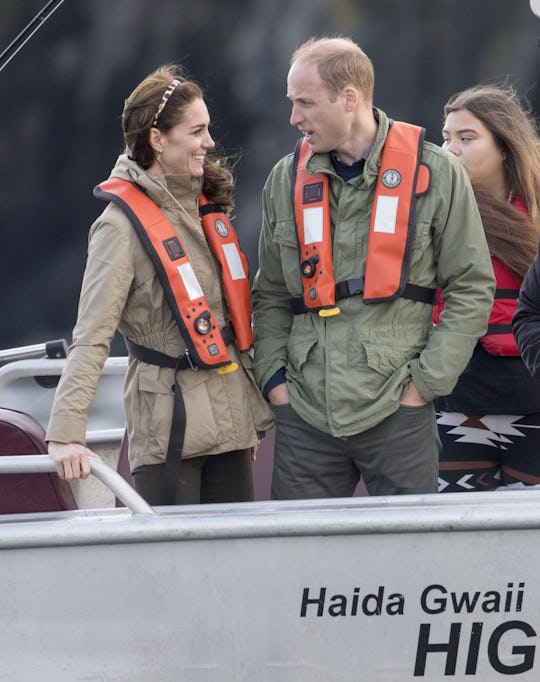 Pool/Getty Images Entertainment/Getty Images
Princess Kate & Prince William Are #CoupleGoals
We've all been there: Your partner gets an ambitious, bright idea — a seemingly random one, in fact — and you're meant to take it seriously, despite how totally out-of-the-blue it seems. Apparently, this type of thing happens in royal pairings, too. In a Tuesday interview with Good Morning Britain's Sean Fletcher, Princess Kate and Prince William proved that they're #CoupleGoals once again, in a way that's totally relatable.
"I chatted to Prince William, and he has promised that he will run a marathon in Kenya sometime," Fletcher told reporters. In Fletcher's discussing the prospect with Kate, however, she reportedly just raised an eyebrow, telling Fletcher: "'I'll believe it when I see it." William's newest goal comes after Kate's sister Pippa Middleton ran a marathon in Kenya in July of 2015. Whereas Pippa's a work out fiend who appears to always be training for something, William hasn't quite shown the same dedication to endurance competitions. Basically, Kate's "I'll believe it when I see it" was totally warranted.
These comments were discussed in a setting committed to health matters of a different kind. William and Kate's mental health initiative, Heads Together, held a briefing to provide an overview of future efforts. William shared the following insight on mental health stigma:
There are times when, whoever we are, it is hard to cope with challenges – and when that happens, being open and honest and asking for help is life-changing. Talking to someone else is a positive and confident step to take – but for too long it has been a case of 'keep quiet and carry on.'
Heads Together will receive the proceeds from this year's Virgin Money London Marathon — perhaps that's another reason why William's now fixated on running a race of his own. "Mental health matters to each and every one of us. It matters just as much as our physical health," William reminded attendees. Kate also made sure to explain Heads Together's goals to the audience, saying that "in the weeks leading up to the Marathon, our campaign will showcase people from all walks of life, talking about the life-changing conversations that have helped them with their mental health challenges."
Heads Together's Twitter account will share updates on the royals' journey towards spreading mental health awareness, especially in the context of the Virgin Money London Marathon. As for updates on William's personal marathon training? Yet to be seen. If he needs any motivation, though, then maybe Kate's "I'll believe it when I see it" will be just the nudge he needs.