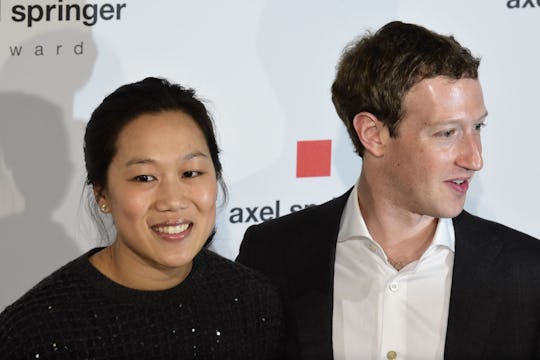 JOHN MACDOUGALL/AFP/Getty Images
Priscilla Chan Quotes About Child Health Prove She Understands It's Intersectional
The Facebook family just got a little bit bigger. On Monday, Facebook co-founder and CEO Mark Zuckerberg and his doctor wife Priscilla Chan, welcomed their second child earlier this month. The powerhouse couple announced the birth of daughter, August, with a heartfelt letter they posted to the social networking site on Monday. It was beautifully crafted, and showed the optimism they have for their new baby's future. And that's not surprising when you consider these Priscilla Chan quotes about child health that show how dedicated she is to building a safe world for kids everywhere.
Chan is an accomplished licensed pediatrician and founder of The Primary School, a free, nonprofit private school in East Palo Alto, California. According to CNN, Chan had launched the school, which opened in August of last year, to serve children living in poverty and underserved communities. As part of The Primary School's mission, kids enrolled in the institution and their families receive free physical and mental health care to address development issues caused by "poverty, family instability, and neglect," CNN reported.
The Primary School is just one example of how dedicated Chan is to the well-being of children everywhere. Chan, who is also mother to Maxima, donates regularly to health and education-related causes through the Chan Zuckerberg Initiative. Her work as an advocate for children's health and education earned her the 2017 Visionary of the Year award, according to the San Francisco Chronicle.
Doctors Should Help Kids Be Their Best Selves
According to the San Diego Union-Tribune, Chan once said in regard to her work as a pediatrician and founder of The Primary School,
One thing that people don't see is that most kids at the base line are healthy, they don't have some catastrophic health problem. So being a pediatrician really means helping kids thrive, and thriving means helping their brain development. And so we need to give them chances to learn and grow into their future full potential.
Kids Have The Same Foundation
Last year, in a rare interview, Chan recalled to the Mercury News her time working as a mentor for children in an after-school program in Boston's Dorchester neighborhood. With one particular experience, Chan told the Mercury News,
I realized that my homework help was going to completely be futile if these kids couldn't be healthy, safe and happy in the place that they lived. That really drives a lot of what I decided to do in my life and career.
Children thrive physically and mentally when they live in safe and secure homes. It's wonderful that Chan both acknowledges this fact, and that it drives her work.
Food Insecurity Is A Pervasive Problem
As a pediatrician, Chan understands the role food plays in a child's health. According to Recode, Chan had said at the 2017 MAKERS Conference,
Kids can't be present at school because there's so much going on at home — they're sick, they're hungry. School's the last thing on their mind.
No Kid Hungry estimates that nearly 49 million people, including 13 million children, go hungry each year in the United States. When kids do not have consistent access to adequate meals, their health deteriorates and their education suffers.
A Person's Health Benefits From A Well-Rounded Doctor
Though not a direct quote about child health, Chan's comments on learning different languages to better serve patients are important. So often people face barriers to health care because their doctors do not speak the same language, and refuse to better communicate with their patients. Chan told TODAY back in 2014 on her decision to learn Spanish,
You can be a better provider and really connect better with individuals if you can speak their language, and so I started studying Spanish in college, and get lots of practice in my work.
Chan is clearly a brilliant pediatrician who cares deeply about children and their health. Congratulations to the doctor and her husband on the birth of their second child.