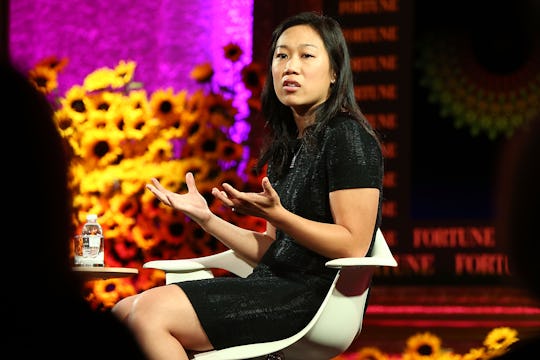 Joe Scarnici/Getty Images Entertainment/Getty Images
These Priscilla Chan Quotes Prove She Knows The Importance Of Vaccines
When Facebook founder Mark Zuckerberg and his wife welcomed their daughter Max into the world, they made a promise: they would spend 99 percent of their Facebook shares — equivalent to billions of dollars — trying to make the world a better place. A large part of that effort, according to the public letter they wrote their daughter, would be investing in health care and eradicating illness. They didn't specifically mention funding vaccines in their viral letter, but Zuckerberg's wife — who is a pediatrician — Priscilla Chan has mentioned her stance on vaccines before and has made it clear that she and the Zuck are passionate about immunizing children.
While Zuckerberg might be the more vocal member of the Chan-Zuckerberg clan, Chan has not shied away from letting the world know that she's all about immunization. After the couple donated a whopping $25 million to the Centers for Disease Control and Prevention to help combat Ebola in 2014, Chan explained to Marketplace why she and Zuckerberg were so eager to donate to the cause.
"As a pediatrician, [my] training is in preventing disease and keeping children healthy," she told Marketplace. "So we take advantage of — and are appreciative of — the massive vaccine program in our country to help prevent the spread of a more serious epidemic, of anything ranging from flu to measles and what I see as cases of devastating illness that would otherwise be preventable."
Zuckerberg has been a bit more forthright in his support for vaccines. In 2015, he recommended the book On Immunity to his followers, and wrote:
Vaccination is an important and timely topic. The science is completely clear: vaccinations work and are important for the health of everyone in our community.
After that, in 2016, Zuckerberg shared a picture of baby Max at the doctor's office, along with the caption: "Doctor's visit — time for vaccines!" It wasn't a long diatribe about his and Chan's support for vaccines, but it made it clear that both parents are pro-vaccination.
That same year, Chan and Zuckerberg announced that they'd be putting $3 billion toward helping cure and prevent diseases — and judging by their support for developing an Ebola vaccine (and vaccines for their own children), immunization is probably a large part of that push.
"We believe that the future we want for our children is possible," Chan said, when she and Zuckerberg announced their $3 billion health initiative, according to Time. "That doesn't mean that no one will ever get sick. But it does mean that our children and their children should get sick a lot less."
So it seems pretty clear — Chan may not speak out in public very often, but when she does, she seems pretty certain that vaccines are a healthy way to help combat disease. And that's something she and Zuckerberg are very set on doing as they fight to make their daughters' world a better place.