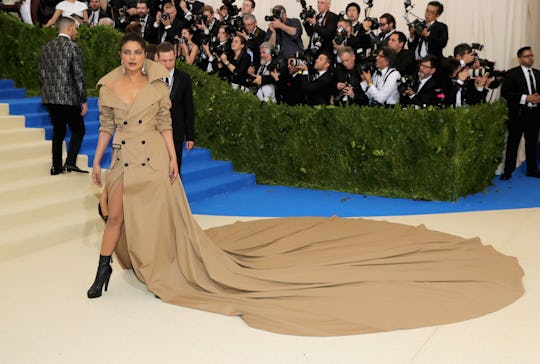 Neilson Barnard/Getty Images Entertainment/Getty Images
Priyanka Chopra Looked Like A Detective At The Met Gala
Since they were honoring Rei Kawakubo, the founder of the Comme des Garçons label on Monday night, it was a given that there were going to be super dramatic, eye-catching dresses on the Met Gala red carpet. But nothing will prepare you for Priyanka Chopra's 2017 Met Gala dress — er, trench coat. Or something. Who knew that Inspector Gadget could be such a good look?
The Quantico actress totally pulled off the Ralph Lauren trench-dress and even managed to not trip on the insanely long train. The general consensus? The train was almost (almost!) as stunning as Rihanna's Guo Pei dress from the 2015 Met Gala. OK, nothing can really beat that look, but Chopra's detective dress was definitely memorable. And perfect for the night, too, since it was a little windy in the Big Apple on Monday night.
It wasn't just any trench, though. The custom gown had a very, very low neckline, a popped collar, and a thigh high slit that might make you re-think your old spring trench in the closet. (It's all about how you style it.) Chopra finished off the look with heeled ankle booties, big statement earrings, and a high top knot. For sure, Kawakubo would approve. It was the perfect mix of Ralph Lauren's signature, classic silhouette with the Comme des Garçon drama.
People were all about the look on social media, too.
She was also gracious as ever on the red carpet, too. She told Good Morning America that she liked how the Met Gala red carpet wasn't about the stars like so many other red carpet events, but that it's often about the designers, or, a celebration of the people that make "fashion what it is," as she said. Then she gave the interviewer a high five, setting the tone for a fun, easy, and fashionable evening.
Chopra wasn't joking about being the designers' "muses," either. The Met Gala is hosted every year to benefit the Costume Institute and althoughVogue's Anna Wintour carefully chooses the guest list, every designer can invite stars to sit at their table. It's sort of an unspoken agreement that if a brand invites a celeb, that celeb wears the designer to the party. So that's why Chopra was caught posing with Nick Jonas — they were both Ralph Lauren muses and were seated at the same table for the night. Sorry if you were hoping they were a new couple or something.
The Met Gala is called the "Oscars of the East Coast" and it really is the most exclusive event ever. Tickets are $30,000 — to raise money for the Costume Institute — but even if you had the money to go, you'd have to get on a waiting list until Wintour approved your attendance.
With Chopra's stunning trench gown look, she'll definitely be invited back next year.