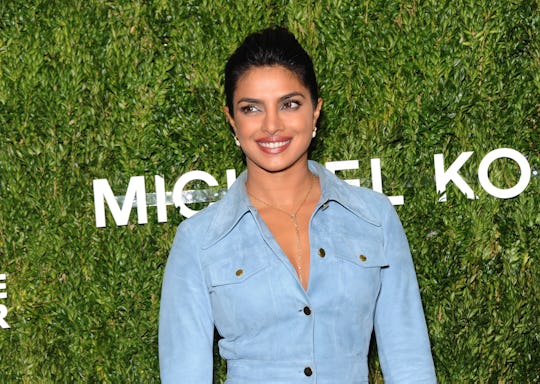 Desiree Navarro/Getty Images Entertainment/Getty Images
Priyanka Chopra's Amazon Wedding Registry Is As Amazing As You'd Imagine
Guys, the big day just around the corner! No, I'm not talking about Thanksgiving, or Black Friday, or even Christmas — I'm talking about the wedding of Nick Jonas and Priyanka Chopra. The celebrity couple has had a whirlwind romance over the past six months, and they'll be tying the knot in a matter of weeks at this point. As their wedding day draws near, fans will be interested to know that Priyanka Chopra's Amazon wedding registry is as amazing as you'd imagine.
As ET Online reported Jonas, 26, and Chopra, 36, got engaged this past July, after just two months of dating. And although the couple's 10-year age difference has attracted plenty of attention, it seems they couldn't be more in love. "The age difference is not a big deal to them whatsoever," a source close to Jonas told People in July. "Nick loves dating older women, and if anything it makes Priyanka even more attractive to him." The source continued: "Nick has been obsessed with Priyanka since they started dating. He obviously thinks she's beautiful, but he's also drawn to her intelligence. She has this charisma and energy that draws you to her, and she's fit in so well with his friends and family."
Chopra and Nick Jonas obtained their marriage license earlier this month, The Blast reported. And according to Us Weekly, the pair will exchange vows in India sometime in December. With their nuptials so close, it makes sense that they would be busy finalizing wedding plans — including their wedding registry. Chopra's registry (which was just released on Monday, Nov. 19) includes seven categories, according to ET Online: Cooking, pet accessories, hosting, travel, home essentials, bed and bath, and fun and fitness. The grand total: $14,131.86. Some of the more expensive items she included on the registry include:
This Calvin Klein rug, priced at $644.56.
This 65-inch TV for $2,696.99.
And this $499.95 blender.
And just take a look at some of the more elegant home/entertaining/ bed and bath pieces the bride-to-be has selected. Like this $131.99 four-piece buffet station.
Or this $149 tile mirror set.
And this $627.12 Ethan Allen washed silk coverlet.
Aside from confirming Chopra's impeccable taste, her registry also showed a fun side. Example: This $50 dog raincoat.
And a pair of roller blades.
(Click here to check out Chopra's registry in its entirety.)
"I'm very excited to begin this new chapter in my life and I've selected some of my favorite items to inspire you during yours," Chopra said of her Amazon wedding registry, in a news release. "I am also so happy that Amazon is making a $100,000 donation to UNICEF, an organization that I hold close to my heart!" Priyanka also shared her wedding registry via Instagram.
In case you were wondering, it doesn't look like fans can actually purchase items from Chopra's registry to be sent to her and Jonas on their big day. (Womp, womp.) However, if you happen to also be in wedding-planning mode (or think you could be in the near future,) her list could still be a serious source of inspiration. I know I'm seriously drooling over many of her picks!