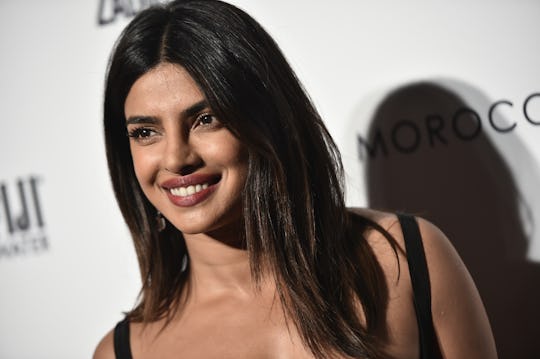 Steven Ferdman/Getty Images Entertainment/Getty Images
Priyanka Chopra's Reaction To Meghan Markle's Pregnancy News Reveals She Has "Baby Fever"
When Meghan Markle and Prince Harry confirmed they're expecting their first child together earlier this week, everyone was both surprised and totally thrilled for the couple. But no one was more excited for the parents-to-be than the people closest to them: their friends and family. And judging from the Duchess of Sussex's BFF Priyanka Chopra's reaction to Meghan Markle's pregnancy news, this announcement had everyone over the moon for the couple.
For those unaware, Chopra is an actress who just so happens to be engaged to singer Nick Jonas. Not to mention, Chopra is a friend of Markle's, according to People. So, it makes sense that she would be so excited to find out that her friend is pregnant, which Kensington Palace confirmed on Monday.
During an interview with Extra on Tuesday, Chopra only had the best things to say about Markle's pregnancy news. "I'm super excited," Chopra told Extra. "A few of my friends are having babies, so, this is that time, I guess — I'm having baby fever now." This tells fans two things: Chopra is so happy for her friend and she wants babies with Jonas like, as soon as possible.
This isn't the first time Chopra has hinted about wanting kids. In June, for instance, shortly after Chopra and Jonas began dating, according to People, the actress spoke highly about having a family in the future. According to People, Chopra said:
I am a very live in the today — maximum live-in-the-next-two-months kind of person. But [in] 10 years, I definitely want to have kids. That is, it's definitely going to happen in the next 10 years. Well, hopefully earlier than that. I'm very fond of children and want to be able to do that.
With that said, it makes complete sense that Chopra reacted to Markle's pregnancy news as she did.
Chopra and Markle "met several years ago" at an event in Hollywood and have remained close ever since, according to Town & Country. In fact, Chopra has said that the two of them first bonded as actors, but then became quick friends, and have clearly remained as such. And ever since Markle's engagement to Prince Harry, Chopra has had nothing but kind words to say about her friend. Chopra told Us Weekly this past April that Markle is an amazing role model for young girls all over the world, now that she is the Duchess of Sussex:
She's that girl who thinks out of the box. She has always been an activist. She has always had a strong voice. She's an ambitious girl of today. I think the world needs strong role models like Meghan.
Given how kindly she speaks of her friend, it didn't come as a surprise to anyone when Chopra showed up at Markle's wedding in May to show her support on Markle's big day, according to ELLE.
And since the two are obviously very close, it's likely that Chopra could have the opportunity to meet the new royal baby, whenever he or she arrives next year.