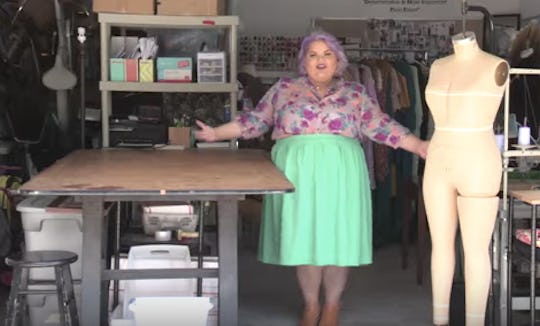 Lifetime/YouTube
'Project Runway' Crowns A New Winner, & Her Plus Size Collection Is Seriously Gorgeous
Season 14 of Project Runway has officially wrapped, and not only did this year's winner totally slay, she also made history while doing it. Twenty-four-year-old designer Ashley Nell Tipton won Project Runway with her plus-size collection, and she was the first competitor ever to win with a plus-size collection. She was also the first in the show's 11-year history to specifically create a plus-size collection at all. (Just let that sink in for a minute.)
For her win, Tipton beat out fellow finale contestants Edmond Newton, Candice Cuoco, and Kelly Dempsey with her incredible 1950s Mexico City-inspired clothing (complete with gorgeous floral headpieces), proving that beautiful, fashion-forward clothing can (and absolutely should) exist for women of all sizes. According to Buzzfeed, Tipton grew up making clothes based on the things she wanted to wear that she couldn't find in her size, and her desire to give other plus-size women options that just didn't exist led to the creation of her collection. Speaking to E! News ahead of the finale, Tipton explained her work as "what I love to design—I love to design the clothing that is not out there for your average plus size woman, and I want to fill in the gap of that industry and not design cookie cutter things."
But as viewers saw throughout the season, the win didn't come easily for Tipton, even though she consistently performed well in the challenges. Despite her talent, she received her fair share from fellow contestants, who called Tipton's design work "costumey" and questioned her ability in confessionals. And during one particularly difficult moment, the designers were split into two groups for a challenge, with Tipton being chosen last even though she'd just won two challenges.  
So what's next for #designerashley? Her Project Runway win and impressive showing at New York Fashion Week have definitely helped her start the next chapter off on the right foot, so hopefully there will much more to come for fans longing to see themselves in her designs. But mostly, Tipton will continue showing the world that beautiful, plus-sized fashion matters — which she's already proven by her own awesome example.
I mean, just take a walk through her own closet, and see the fierce style this woman is bringing into the plus-size fashion world:
Image: Lifetime/YouTube