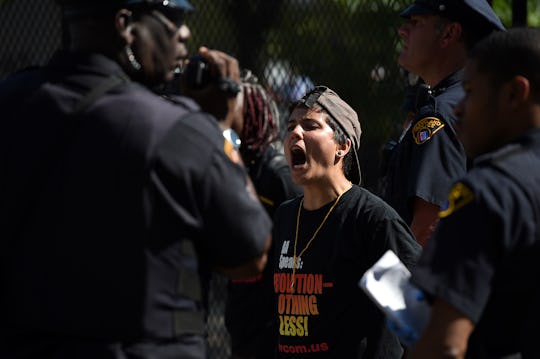 ROBYN BECK/AFP/Getty Images
Protestors Arrested For Burning Flag Outside Republican National Convention
Tensions rose between protesters and law enforcement on the third day of the Republican National Convention. Officers in riot gear were seen roaming the streets of Cleveland on Wednesday night, as a violent demonstration resulted in dozens of arrests. Two police officers were assaulted, after responding to a group of protesters burning the American flag outside the Republican Convention.
The chaos was the most turbulent protest since the Convention began on Monday. Two protesters attempted to burn an American flag, an act protected under the first amendment. As the flag's edges caught on fire, police quickly circled the area and told the group to stop. When the two refused, officers arrested them, according to a USA Today video of the scene.
"Get up! What are you doing?" the officers are heard saying on the video.
Police Chief Calvin Williams said the chaos started when the flames from the flag jumped onto a protester's leg and spread throughout the crowd, which became more rowdy as police officers tried to extinguish the fire.
But the group responsible for the burning, the Revolutionary Communist Party, said their members were unjustly arrested and man-handled.
Police tackled several protesters to the ground and placed some areas on lockdown. In total, 17 people were arrested.
The group wore shirts that read "Revolution nothing less!" and organized the burning as a "political statement about the crimes of the American empire. There's nothing great about America", Carl Dix, a representative of Revolutionary Communist Party told Al Jazeera.
Overall, 22 people have been arrested since the start of the convention. The atmosphere outside the arena descended into chaos, as protesters from opposite sides of the spectrum clashed with each other.
Officers attempted to separate religious groups from LGBT groups, immigration opponents from immigration activists. A crowed of people wearing giant canvases painted with brick walls, gathered outside the convention calling for America to "wall off Trump." A right-wing group was seen stepping on a rainbow flag. Earlier that morning, Code Pink, a women-led anti-war group, conducted a "beauty pageant" to protest Trump's treatment of minorities. At one point, a group wearing bandanas on their faces shouted "hail Statan" at a crowd of fundamentalist christians.
The various clashes illustrate just how divided the country is as it enters the height of the election season. With little common ground between them and no space for conversation, the protest went up in flames.