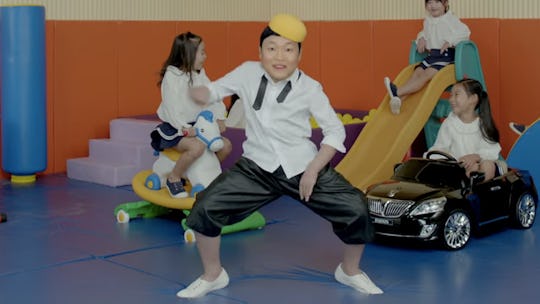 Psy's New "Daddy" Video Features Some New, Weird Dance Moves For You To Try, & They're Better Than "Gangnam Style"
Can you believe it's been over three years since "Gangnam Style" took the world by storm? It seems like just yesterday that everyone was doing that weird horsey dance at every wedding reception on Earth. I hope you're over it, though, because Psy is back with a brand new video, "Daddy," and you're going to be recreating his new moves for the foreseeable future. Or, at least trying to. Maybe Darrin's Dance Grooves will make a comeback to help us out?
The video features three generations of Psy; he plays a baby and father in the beginning, and later plays the precocious tot that baby grows into, as well as his grandpa. It's like those Eddie Murphy movies from the '90s, only much, much funnier. Watch as Psy Junior slays all the little girls (and one teacher) with his smooth moves. Experience the anguish that comes from a whole family sharing a single bathroom. There's also a tango situation, which I guess is Psy's way of telling us that he'd be interested in a turn on Dancing With the Stars if his career ever fails. It's a lot to take in, so I'll break it down for you, dance step by dance step.