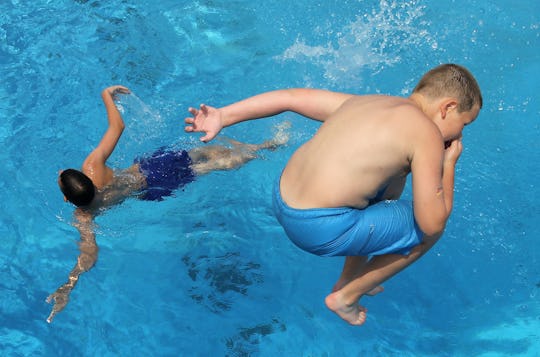 Sean Gallup/Getty Images News/Getty Images
Public Pools May Be Full Of Parasites & Bacteria, CDC Warns — Here's What Parents Need To Know
The end of May — and consequently the end of the school year — is so close, guys. I swear, all the burned-out, totally-over-it kids and parents can practically taste it: Sweet, sweet summer break. Soon, families will be trading the morning school rush for sleeping in and unscheduled time spent loafing, playing outside, and for many, embarking on summer vacations. What parents might not be thinking about as they're planning family getaways are the potentially dangerous things chilling out at hotel pools. (You know, aside from poop, pee, and other gross bodily fluids.) In fact, in a recent report, the CDC warned that a parasite could be lurking in swimming pools, and here's what you need to know before your next vacation.
An updated report that was originally published in 2015 (but recently updated) by the Centers for Disease Control and Prevention (CDC), as PopSugar pointed out, might make you extra wary about hotel swimming pools. That's because one-third of treated recreational waterborne disease outbreaks from 2000 through 2014 happened in hotel pools or hot tubs. This disgusting statistic comes from a recent report published in the CDC's Morbidity and Mortality Weekly Report.
For the record, the top three culprits of waterborne disease outbreaks included: Cryptosporidium — which is a parasite that could care less about chlorine — as well as Pseudomonas, and Legionella, which are bacteria that can apparently survive disinfections, and can show up in "slimy areas" of pools, hot tubs, and water playgrounds, according to PopSugar.
Gross, right? Another "fun fact", according to the CDC report: The 493 outbreaks reported resulted in at least 27,219 illnesses and eight deaths. What's more is Cryptosporidium — also referred to as Crypto — caused 58 percent of outbreaks where a germ was identified and linked to pools, hot tubs, and water playgrounds. Furthermore, Crypto caused 89 percent of the illnesses.
"Swallowing just a mouthful of water with Crypto in it can make otherwise healthy kids and adults sick for weeks with watery diarrhea, stomach cramps, nausea, and vomiting," Michele Hlavsa, chief of the CDC's Healthy Swimming Program, explained, according to the report. "Chlorine cannot kill Crypto quickly. We need to keep it out of the water in the first place. Don't go into the water, and don't let your kids go into the water, if sick with diarrhea."
So yeah. The next time you're chillin' with the fam at a hotel swimming pool, I dare you to not think about the potential parasites/bacteria flourishing in the water that your kiddos accidentally swallow. And if this isn't enough to make you wary of hotel pools, here's another potential risk on which to dwell: Underwater entrapment caused by pool drains. As the New York Daily News reported, this is exactly what happened to rapper Usher's son back in 2013. The 5-year-old was swimming in a pool at his father's residence when he tried to retrieve a toy, and then become stuck in the drain, as TODAY reported. (Ultimately, the boy survived after he was freed, revived, and then received emergency care at a hospital.) Aside from the obvious risk of drowning, secondary drowning is another potential swimming pool hazard. People reported that a 4-year-old girl nearly died days after she accidentally inhaled water while playing with a pool noodle.
In a few weeks, my husband and I will be taking our three kiddos to a theme park/waterpark. I know I'm going to have a difficult time not thinking about the waterborne illnesses they could be exposed to while frolicking about with no worries in the world. But that doesn't mean I'm going to rain on their parade. I take comfort in the fact that waterparks (and hotels associated with waterparks) take serious measures to handle these types of issues.
Still, it only takes one person with uncontainable diarrhea in a swimming pool to ruin it for everyone. So parents, please, please keep your kiddos out of the water if they're experiencing intestinal distress. Because no one wants to accidentally swallow that, let alone risk becoming seriously ill because of it.