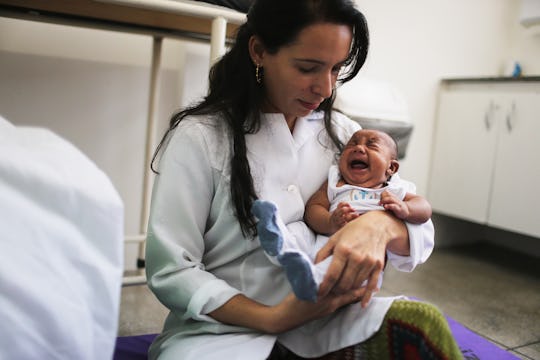 Mario Tama/Getty Images News/Getty Images
Puerto Rico Freezes Condom Prices Amid Zika Outbreak & It's A Necessary First Step
Many countries across Latin America and beyond are taking steps to try and stop the spread of the Zika virus. And now that officials have determined the virus can be spread by sexual intercourse, condoms, along with insect repellent and mosquito nets have become an important part of fighting the disease. So, Puerto Rican government officials have taken an important step forward in making condoms widely available by keeping retailers from using growing fears about contracting the virus to jack up prices. So, now the government is vowing to fine stores $10,000 for price gouging on condoms along with hand sanitizer and insect repellent. Puerto Rico's price freeze on condoms is a great first step, but they could go farther to help women who are, or might become pregnant, protect themselves from the dangers of the Zika virus.
Women who are or might get pregnant, are under the greatest threat from Zika. A serious birth defect, microcephaly, has been linked to pregnant women who contract the virus. And Puerto Rico is under a state of public health emergency with 63 confirmed cases, three of which are pregnant women, according to the Puerto Rico Department of Health.
So, while it's important for Puerto Rico to help make condoms available to stop the spread and to help couples prevent pregnancy, it makes me wonder why the state (and Latin America, generally) can't do more. Women across Latin America are being put in a terrible predicament, stuck between an awful disease that could devastate their babies and governments heavily influenced by Catholic doctrine that tries to deny women access to birth control and safe, legal abortions. It's time for Latin America to give women more power over their own bodies (or it's time for other countries to pressure them to do so in the middle of the Zika outbreak).
Making condoms free, or at least offering government subsidies for their purchase, for the poorest women seems like a no-brainer. With the emergence of Zika — and the terrible birth defects linked to it — the cost of denying women access to the tools they need to protect themselves is too high. Perhaps this will be the silver lining to the Zika virus outbreak: governments could finally being forced to deal with the real lives of women in their countries rather than religious philosophies that deny them control over their — and their fetuses or potential babies' — well being.
For now, the cost of a box of three condoms is frozen between $3.99 and $5.99, according to a report from National Public Radio, which is pretty steep for a state with nearly half of its residents living in poverty.
It's time for Puerto Rico, and the rest of the world, to put the control of women's bodies, where it belongs: in their own hands. Boosting access to cheap condoms is an important first step, but they still have a long way to go.