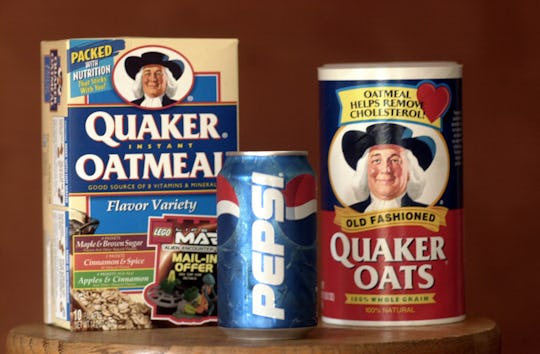 Darren McCollester/Getty Images News/Getty Images
Quaker Included In Listeria Recall & Parents Should Check Their Kid's Lunchbox
You might need to look a bit more carefully before unwrapping a granola bar —Now Quaker is included in the listeria recall that made headlines last week after the company discovered possible contamination. Quaker initiated the voluntary recall out of an abundance of caution to protect the public from any illnesses related to a favorite lunchbox snack for kids. As if there weren't already enough delicious and staple foods taken off the shelves recently.
On Monday, Quaker Oats Company announced the recall of a small quantity of Quaker Quinoa Granola Bars after it was discovered that a batch of sunflower kernels used may have been contaminated with Listeria. Listeriosis, the infection caused by listeria in the bloodstream, can cause serious and sometimes fatal infections in young children and the elderly. Short-term symptoms are similar to the flu, such as a high fever, severe headache, stiffness, nausea, abdominal pain, and diarrhea. However, it's much more severe for pregnant women as an infection can cause miscarriages and stillbirths.
Fortunately, there have been no reported illnesses associated with the recall to date: According to the company, the vast majority of potentially affected Quaker products never reached your grocery store's shelves. But you may still want to look at your oat products carefully in the wake of the widespread Listeria recall anyway, just to be safe.
Quaker — whose popular products include oatmeal, pancake syrups, granola bar snacks, and flavored rice products — said the recall only covers one type of granola bar. The products include Quaker Quinoa Granola Bars Chocolate Nut Medley and Quaker Quinoa Granola Bars Yogurt, Fruit & Nut Medley.
If you purchased either of these two products take a close look at the UPC codes and the Best Before Dates, you can find full details here. If your products match up with the recalled products throw them away or return them to where you purchased them for a full refund.
Last week CRF Food Products issued a recall on all of its frozen organic and traditional fruit and vegetable products also for possible Listeria contamination. Stores that carried the products included Trader Joe's and Whole Foods Market, which have subsequently issued recalls of their own.
Quaker's quinoa-based granola bars are now among the growing list of manufacturers, brands, and retailers that have issued recalls. This is an important reminder to stay informed on the latest information on recalls because food-borne infections can cause serious health issues. While the risk of Listeria in a favorite snack is quite scary, it's comforting that Quaker quickly acted to prevent hopefully prevent any affected products from reaching your grocery store's shelves. Parents, be aware — but don't stress: Your little ones are most likely safe.