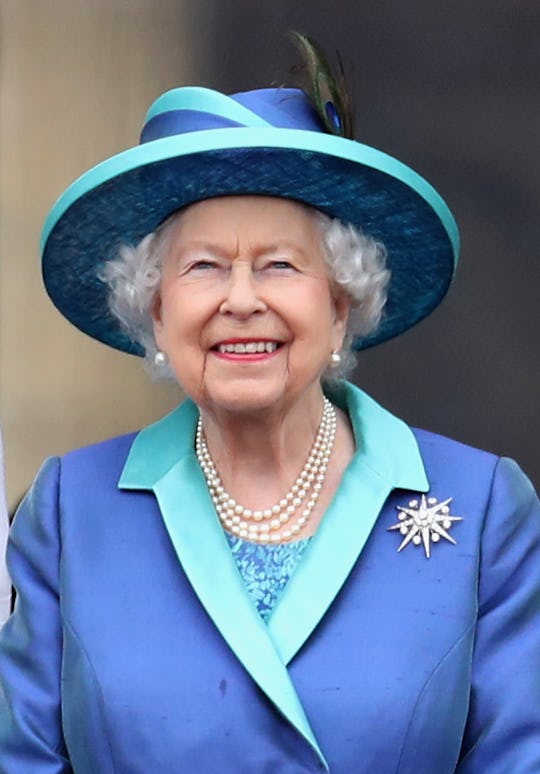 Chris Jackson/Getty Images Entertainment/Getty Images
The Queen Isn't Too Keen On Royal Children Being In The Spotlight
Queen Elizabeth II has several grandchildren and great-grandchildren. And like any grandmother, she's concerned for their well-being. In particular, she may be worried about the health and well-being of the children of Prince William and Kate Middleton, as they are likely to be in the public eye for the rest of their lives. Apparently, Queen Elizabeth believes the royal children "should stay out of the limelight," a source says, and she may have a very good point.
Ken Wharfe, Diana's former bodyguard, told People in a July issue of the magazine that when it comes to public exposure of the royal kids, "The Queen doesn't like too much, too early. Her belief is that they are children and should stay out of the limelight." He went on to say of Prince George specifically, according to People:
George will know exactly who he is, and William and Kate will want to make sure that his moment of entering royal glory is kept away as long as possible.
It's definitely not unusual that Prince George's parents would want to protect their son this way, and most parents can probably relate to the feeling. But I don't think I've heard much in the past from the Queen about how she feels about it, so these new comments from a source that was previously probably quite close to the family are interesting indeed.
Queen Elizabeth II has eight grandchildren, according to Town and Country. The Queen also has seven great-grandchildren, after her eldest granddaughter, Zara Phillips Tindall, welcomed a baby girl in June, according to USA Today.
But the most famous of those great-grandkids are definitely Prince George, Princess Charlotte, and Prince Louis, the three children of Prince William — who is in line for the throne — and his wife, the Duchess of Cambridge. Unless something changes, Prince George will almost certainly take the throne himself one day, but in the meantime, his family apparently wants him to have as normal a childhood as possible.
In 2016, Prince William said that their family is very "normal," and his son will learn about his future role as heir to the British throne when he and Middleton feel it's appropriate. He said at the time, "There'll be a time and a place to bring George up and understand how he fits in, in the world."
But apparently, that time and place is not now, and if Wharfe is correct, the Queen feels that that's the right move.
And it doesn't sound like this is a new feeling for Queen Elizabeth or the royal family in general. In William & Catherine: A Family Portrait, Gill Knappett wrote, according to The Daily Express:
Like his father did, Prince George is enjoying as normal an upbringing as possible, with two parents determined to let him have as much privacy has possible.
So the Queen might have had some say in keeping Prince William's childhood fairly normal when he was young, too.
Not only is the royal family working hard to keep the royal children out of the limelight as much as possible, possibly thanks in part to the Queen's wishes, but Prince George might not be aware of his royal role at all. His parents are reportedly keeping his title and role a secret from Prince George, according to news.com.au — at least for now.
If Wharfe is to be believed, and the Queen really feels like the royal kids shouldn't be in the limelight too much when they're young, it's probably for a very good reason.
Prince George, Princess Charlotte, and Prince Louis are going to face scrutiny for the rest of their lives as members of one of the most famous royal families in the world, after all. So why not let them have as much privacy and normalcy as possible, while they still can?