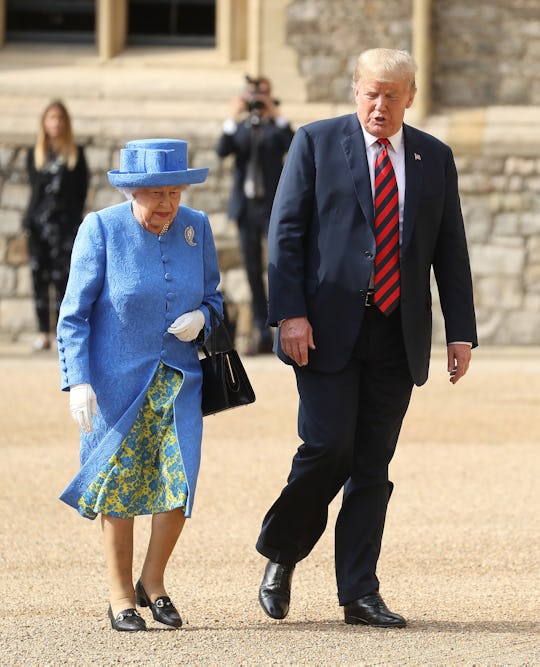 Chris Jackson/Getty Images News/Getty Images
Queen Elizabeth Sported A Special Nod To Barack Obama During Trump's Recent UK Visit
Say what you want about royal style protocol, but it's hard to deny Queen Elizabeth II doesn't totally rock it. Her seemingly endless supply of matching hats, handbags, and umbrellas that perfectly coordinate with all of her outfits is seriously impressive. I'm guessing her impeccable style — and extensive royal wardrobe — probably has something to do with the fact that the 92-year-old monarch has been at this for quite a long time. Add this to the fact that apparently, she's an expert at sending subtle messages through her wardrobe, and it makes for a sassy combination indeed. That's because Queen Elizabeth sported a special nod to Barack Obama during Trump's recent visit to the UK. And it's everything.
As People reported, it was Queen Elizabeth's interesting brooch choice on Thursday, July 12, that was the cause of speculation. See, the Queen decided to wear a brooch gifted to her by Barack and Michelle Obama on the very day that President Donald Trump arrived in England, according to the publication. While receiving the Archbishop of Canterbury and the Grand Imam of Al-Azhar at Windsor Castle on Thursday, Queen Elizabeth was sporting what many are declaring a subtle nod to the former POTUS. The brooch in question, which was a small green flower, was actually a gift from the Obamas during their state visit in 2011, according to From Her Majesty's Jewel Vault.
Although Queen Elizabeth changed into a different outfit — and a different brooch, by the looks of it — by the time she met up with Trump, her subtle nod to the Obamas while the current POTUS was in her country didn't go unnoticed. One Twitter user wrote, "Love this: Most Americans know that Madelaine Albright uses brooches to say things... Queen Elizabeth's been using brooches the same way... When Trump inflicted himself upon---I mean, arrived in the UK, the Queen wore the brooch the Obamas gave her."
Another person tweeted, "Okay so you've heard of #cyber warfare from me but have you seen the Queen Elizabeth's brooch game vs #Trump? She's all smiley but with just one pin she's like BRING. IT. ON. #GirlPower."
Yet another Twitter user wrote, "Queen Elizabeth didn't want to meet the t-Rumps either. So, to make herself feel better, she wore 3 brooches, 1, a gift from the Obama's, 2, a 'Mourning' brooch and 3, a gift from Canada. LOVE HER!"
As MSN reported, the brooch symbolism didn't end there. As an eagle-eyed Twitter user named Julie — who uses the handle @SamuraiKnitter — pointed out, Queen Elizabeth's brooch choice for three consecutive days sent out clear messages. "She wore three brooches while she and Trump were both in town. The day he arrived, the day of the banquet, and the day she actually met him for tea," she tweeted. "Arrival day was the one that got the most attention. That day, she wore the brooch the Obamas gave her on their last visit to England."
On the second day trump was in town — the day she met the Trumps for tea — Queen Elizabeth wore the same brooch her mother wore to her father's funeral, The Sun reported. "And for the day of the tea, QE wore an innocuous 'nice but not holy s***, considering what's in the vaults' diamond brooch she inherited from her mother," Julie tweeted. "Jewel watchers nearly died, because it is the brooch worn in the famous 'Three Queens in Mourning' photo, worn by the Queen Mum. 'QE rolled up to tea with the Trumps wearing the brooch her mother wore to her father's STATE FUNERAL.'
On Trump's third day visiting the UK, Queen Elizabeth wore a sapphire brooch — which was a gift from Canada, the Daily Mail reported. You know, the country whose prime minister Trump has recently slammed as being "dishonest and weak"? Yeah, that one.
It's difficult to say for sure if Queen Elizabeth purposefully selected her brooches to send a message during these three days Trump was visiting the UK. And I'm sure hell will freeze over before she admits to anything. But it's amusing — and empowering AF — to imagine this was the Queen's subtle way of resisting her meeting with the Trumps, isn't it?