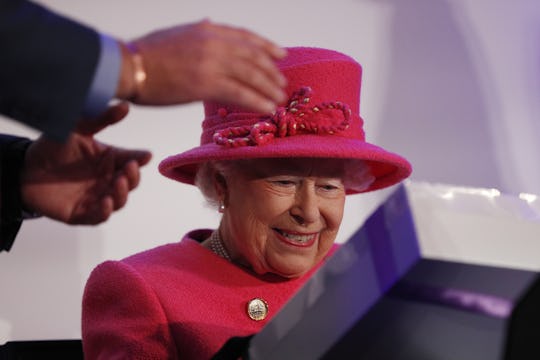 WPA Pool/Getty Images Entertainment/Getty Images
Queen Elizabeth's List Of Pet Peeves Includes The Use Of One Common Word
I get it. Everyone has that one word they just can't abide. For many people it's the infamous "moist" but for the queen, it's apparently something that most people wouldn't give a second thought. One of Queen Elizabeth's pet peeves is the word "pregnant" and she's found a creative way to get around the phrase.
This news comes via an old piece all about the queen's choice complaints by Us Weekly that has resurfaced for our enjoyment, according to Cosmopolitan. "Her majesty finds the term 'vulgar,'" a source in the palace told Us Weekly, so she prefers to use the term "in the family way." That's so cute. And hey, I'm not going to criticize, everyone has that one thing that makes their skin crawl.
But the queen actually has a few more than just the one, according to the piece. She also can't stand men in shorts (sorry, Harry), long sermons, clinking ice cubes, and God forbid someone pet her dogs! In my dream world, where I meet her, I'd immediately get on her bad side for that last one.
The monarch is pretty particular about the dinner table too. She doesn't eat potatoes, so they're never served when she's eating alone, according to one palace chef.
She won't eat soup, and babies aren't allowed at the table. She doesn't like three-piece suits, feeling that they're meant for servants, and really can't cope with a fake bow tie. And her Master of Music said that she doesn't like "dissonance" in music, which, natch.
The queen is now on her third generation of successors, so does that mean that all of those couples have had to avoid the word "pregnant" when announcing their good news? Very likely, yes, but that word is probably the least of their concern since there is a whole slew of royal pregnancy protocols, according to Reader's Digest.
The outlet reported on the specifics of a royal pregnancy, including the fact that morning sickness is a very public matter. That has to be the worst when you're already feeling nauseous, weak, and a royal mess, but to have a press release put out about the situation just feels unfair.
Royal moms-to-be are also not excused from the keep-the-toes covered rule so swollen feet just means get a bigger size of footwear. No open-toed room to breathe when it comes to public appearances. Speaking of wardrobe issues, a royal's maternity wear has to remain as buttoned-up and proper as it is at any other time, as Marie Claire noted. No comfy baby-on-board T-shirts for these moms, at least when they're in the public eye.
But despite all the rules that could seem to be a royal pain, the sovereign's family cares deeply for their pregnant ladies and takes good care of them. Travel is pretty much banned during the last trimester and is really discouraged throughout the pregnancy, according to Reader's Digest, so the couple is close to the family's doctors at all times.
So the queen may not be care to say the word itself, but she is otherwise incredibly supportive of her children's — and now grandchildren's — time spent "in the family way." A queen, yes, but also a sweet, old grandma who loves her family in all the best ways.
This first-time mom wants to have a home birth, but is she ready? Watch how a doula supports a military mom who's determined to have a home birth in Episode One of Romper's Doula Diaries, Season Two, below. Visit Bustle Digital Group's YouTube page for the next three episodes, launching every Monday starting November 26.