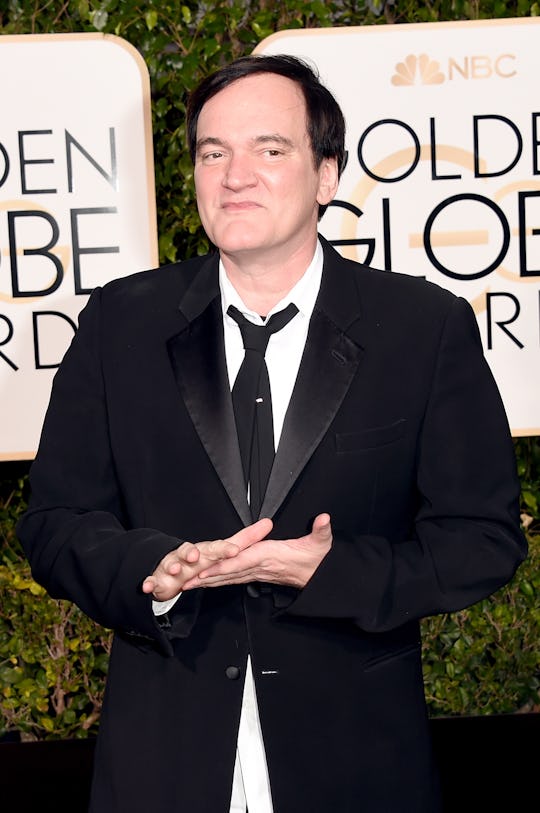 Quentin Tarantino's "Ghetto" Comment At The 2016 Golden Globes Receives Deserved Backlash
The cringe-worthy moments keep coming. About an hour after Ricky Gervais' offensive Caitlyn Jenner jokes during the monologue, another cisgender white man decided to take a stab at a minority group. Accepting the 2016 Golden Globe on behalf of Hateful Eight composer Ennio Morricone, director Quentino Tarantino used the word "ghetto" as an insult.
The moment came after Jaime Foxx joked about the winner. He jokingly "pulled a Steve Harvey" and read the wrong name, awarding the Best Composer in a Motion Picture to Ice Cube for Straight Outta Compton. When Tarantino took the stage after the laughs to accept the award, he brought the humor to a halt with his offensive comment.
Tarantino, in his proxy acceptance speech, said that Morricone is not just his favorite movie composer, he's his favorite overall composer, because to say that Morricone is only his favorite movie composer "would be ghetto." Yes, Tarantino used "ghetto" as an insult, to imply that such a thought was dumb and less-than.
Fans watching the Globes were rightfully upset with his word-choice, as was Foxx, who repeated Tarantino's words under his breath, to make sure everyone heard and understood what the director just said.
And people heard.
Yes, we could all let it go. Yes, we could all say that that's not what Tarantino meant. Yes, there are a million excuses, and yes, of course, there are thousands upon millions of things to get upset about. But that doesn't excuse Tarantino, nor does it make the response any less justifiable. When tens of millions of people are watching, and when the film industry struggles so much with representation that there's a federal investigation into its practices, we have to hear and call out offensive language. Because there is a problem. And the more it's acknowledged, the faster change can happen.
Image: Jason Merritt/Getty Images