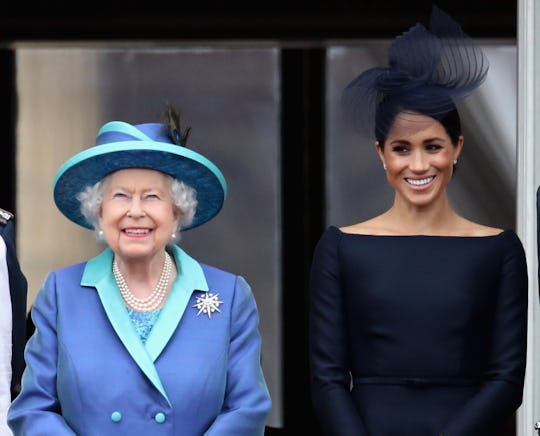 Chris Jackson/Getty Images Entertainment/Getty Images
Quotes About Meghan Markle ​& Queen Elizabeth II's Friendly Relationship
In a matter of months, The Duchess of Sussex Meghan Markle's life completely changed. She went from being a television actress to a royal — and not just any royal. She married Prince Harry, Duke of Sussex, making her a granddaughter-in-law to Queen Elizabeth II. And based on quotes about Meghan Markle and Queen Elizabeth II's relationship​, it's clear that the two women get along fabulously.
After months of media speculation about their relationship, Meghan and Prince Harry announced their engagement in November 2017. With the Queen's blessing, they got married in May 2018. Two months before the wedding, in March, the Queen published her official consent of marriage for the couple, MSN reported. In the statement, she described them as "my most dearly beloved grandson Prince Henry Charles Albert David of Wales and Rachel Meghan." Some critics interpreted this as the Queen throwing shade at Meghan, based on her statement about Prince William and Catherine, Duke and Duchess of Cambridge, before their 2011 nuptials. At the time, she referred to them as "Our most dearly beloved grandson Prince William Arthur Philip Louis of Wales, K.G. and our trusty and well-beloved Catherine Elizabeth Middleton."
As a "palace insider" told BestLife, the words "trusty" and "well-beloved" are "commonly used in statements such as these when the person marrying a royal is from Britain." Not to mention, by all other accounts, the Queen and Meghan seem to be big fans of each other.
Here are five times fans got a look at the Duchess and the Queen's relationship.
1. When Meghan Waxed Poetic About Meeting The Queen
Shortly after announcing their engagement, the couple sat down for a joint televised interview with the BBC. When asked if she had met the Queen, Meghan told the interviewer, according to Harper's Bazaar:
It's incredible. I think to be able to meet her through his lens, not just with his honor and respect for her as the monarch but the love that he has for her as his grandmother, all of those layers have been so important for me ... When I met her I had such a deep understanding and, of course, incredible respect for being able to have that time with her, and she's an incredible woman.
2. When Prince Harry Dished On The Royal Corgis' Love For Meghan
Also in the post-engagement interview, Harry revealed that the Queen's beloved corgis immediately fell in love with Meghan. He said, according to Harper's Bazaar:
The corgis took to you straight away. For the last 33 years, I've been barked at, and this one walks in, absolutely nothing, just wagging tails.
Meghan added: "Just laying on my feet during tea, it was very sweet."
3. When Meghan & The Queen Shared A Laugh On A Private Outing
In June, Meghan and the Queen spent an entire day doing engagements together, sans Prince Harry, Marie Claire reported. Photographers captured the duo smiling and even laughing together, and ugh, it's just too sweet.
4. When The Queen Gave Meghan An Honor She Has Yet To Give Harry, Will, & Kate
Meghan and the Queen's first solo outing together made headlines for an even bigger reason than their shared laugh. The Queen invited Meghan to ride on her train with her, something that Harry, Will, and Kate have never even been invited to do, Harper's Bazaar reported.
5. When The Queen Gave Harry & Meghan Her Blessing, Despite Meghan's Divorce
There were rumors that the Queen would not approve of Meghan as a bride for Harry, because she had been divorced. The Queen has refused to bless engaged royal couples in the past due to one of them having been divorced. For example, in 1953, she did not allow her sister, Princess Margaret, to marry Peter Townsend, who had been divorced, Express reported. However, times have changed, and three of The Queen's four children have gone through divorces, so it's only right that the Queen approved of Meghan.
It's clear that the Queen has welcomed Meghan into the royal family with open arms, and it will be lovely to watch it continue to develop.