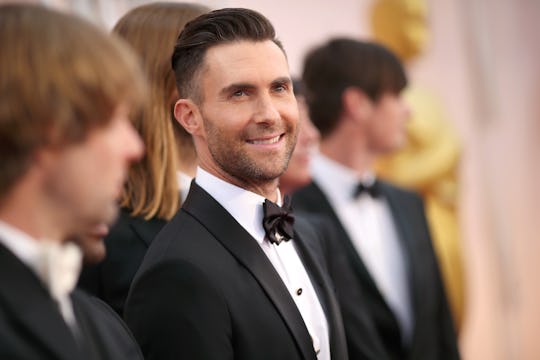 Christopher Polk/Getty Images Entertainment/Getty Images
Quotes From Adam Levine That Prove He'll Make A Great Dad
Big news, Adam Levine fans. The tattooed heartthrob is preparing for his next big project: being a father. He and wife Behati Prinsloo announced that they are expecting their first child, and they could not be more excited. Here are quotes from Adam Levine that show he'll make a great dad.
First of all, being psyched about becoming a dad pretty much makes up for any lack of skills or experience, and Levine's definitely got that covered. Sources told Us that Levine is "over the moon." He's been excited about starting a family since he and Prinsloo were married in 2014 (if not before). When Ryan Seacrest asked him about starting a family during a KIIS FM radio interview, Levine said, "We're definitely going to do it. I want to have 100 kids. I want to have more kids than would be socially responsible." Typical overachiever.
He's Not Afraid To Share His Feelings
Despite his tough-guy appearance, this is not the first time Levine has shown his softer side. At the 2014 Tribeca Film Festival he couldn't help but say something sweet about Prinsloo:
She makes me the best person I can be. She's the best in the world.
That desire to be a better person for the ones you love and the belief that others can make you better is the stuff of pure, unfiltered, grade-A father material.
He Says, "No, Thank You" To Peer Pressure
Before Levine became a card-carrying loving husband, he spoke out about getting married for the sake of getting married. He said,
The most important thing about marriage is understanding that it might not be the right time regardless of what your friends are doing. Peer pressure is a motherf*cker.
When growing up, nearly everyone struggles at some point with the perils of peer pressure. It's nice to know that Levine will be able to tell his kids to ignore the crowd and be there own person. He's a good role model for that lesson.
He'll Be Over-The-Top Supportive
The above Levine quote from The Voice shows just how much his mom loves him. Clearly, Levine knows how important a parent's support and encouragement are, and there's no doubt he will bring the same unconditional fandom to his own children.
He & Babies Have Similar Dress Codes
Finally, I'll leave you with this classic Levine zinger. Back in 2011, he told Cosmopolitan UK:
I spend most of my life naked. In fact, I often have to be told by the people around me that it's inappropriate to be as naked as I am. But I live in California, where it's always warm, so why not?
The only person who may be more naked than Levine is a baby Levine. They're going to get along just fine.