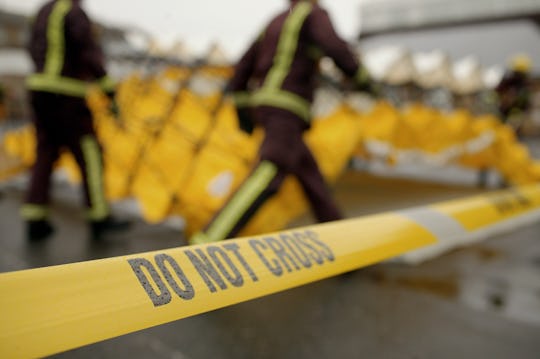 Bruno Vincent/Getty Images News/Getty Images
These First-Graders Survived The Townville Shooting
In September 2016, a shooting at an elementary school in Townville, South Carolina, left a community reeling. Just a few weeks after the new school year began, a 14-year-old boy drove to Townville Elementary School and shot four people, killing a 6-year-old boy and injuring two other students and a teacher. As far as mass shootings go, there have been far more lethal ones, and it was fortunate that more people were not hurt. But recent quotes from first-graders who survived the Townville shooting highlight the tragedy that occurred there — and demonstrate the lifelong impact shootings can have on young children.
Often, when we think of mass shootings, attention falls to those who were hurt or killed in the incident, and the families who were left behind (as it should). But the damage caused often spreads to a much larger group of people, and it's a hurt that often goes unseen. Young children — like those caught up in shootings in Townville, Columbine, Sandy Hook, San Bernardino — should not have to process such a traumatic incident. Children should not have to enter lockdowns at school. Parents should not have to explain why their 6-year-old classmate will no longer be in class. And nothing demonstrates the lasting pain more heartbreakingly than the Townville children's quotes.
Upon returning to school, faced with the prospect of going back to the playground where the shooting occurred, 7-year-old Ava told her mom: "Please don't make me go out there again."
At her 6-year-old classmate Jacob Hall's funeral, according to The Washington Post, she asked her mom, "He's not really dead, is he?"
Karson Robinson, another student in Jacob's first grade class the day of the shooting, balked in the parking lot of Jacob's service, seeing a pick-up truck similar to the shooter's. "Mama, that looks like that boy's truck. Is he here?" he asked. A month later, he wondered aloud to his mom whether he could have saved Jacob's life that day, when he jumped over the fence to escape the shooter, saying:
Maybe I should have waited on Jacob. He could have jumped over the fence with me.
Another first-grader, Siena, began carrying a stuffed animal for protection. She wouldn't go to school unless she saw a patrol car parked outside. "I don't feel good," she told her parents. "Noises are different now."
While experts say that kids can bounce back from traumatic experiences like school shootings, many of them will be affected and suffer from stress following the incident. According to CNN, elementary-aged children are more vulnerable to trauma, since they react to danger but don't know how to deal with the emotional fallout that follows trauma. Children can suffer from headaches, stomachaches, and sleepless nights. They may revert to relying on their parents for routine tasks and may become irritable. At worst, they can develop post-traumatic stress disorder, anxiety, or depression.
"It's such a convergence between our worst nightmares coming true, and there is a sense of helplessness and loss of control that we need to address," Steven Marans, director of Yale's National Center for Children Exposed to Violence/Childhood Violent Trauma Center, told CNN in 2012.
Hearing the Townville children's words following the shooting is heartbreaking — but those children are, unfortunately, far from alone in their experience. Since 2013, there have been more than 200 school shootings in the United States, according to Everytown for Gun Safety. That's nearly one a week. It's been nearly two decades since the Columbine High School shooting occurred, and the students who witnessed it still cannot face fireworks, backfiring cars, or the smell of nail polish, which smells like the hospital.
Schools should be the safest place in the world for children, and shootings should not be occurring on a near-weekly basis. No child should be scared of the playground or deal with survivor's guilt, and it's about time we started tightening gun control in order to reign in the violence that forever changes children.