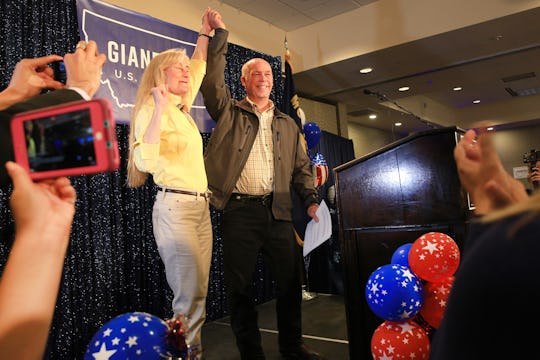 Janie Osborne/Getty Images News/Getty Images
Quotes From Greg Gianforte Show He's Not A Fan Of Reporters
It's hard to believe that a candidate running for a seat in the House of Representatives could actually win after being charged with misdemeanor assault only a day before the election, but that's exactly what happened in Montana Thursday night. According to ABC News, Republican Greg Gianforte defeated Democratic opponent Rob Quist to win the special election, despite an alleged altercation Wednesday with Ben Jacobs, a reporter for The Guardian. Jacobs claimed that Gianforte "body-slammed" him during the incident, and later shared an audio recording of Gianforte's angry outburst (Gianforte's rep did not immediately respond to Romper's request for comment). Gianforte has since publicly apologized, but quotes from Greg Gianforte show he holds some pretty controversial opinions, even if he isn't fond of sharing them directly.
According to The Guardian, on Friday, President Donald Trump called Gianforte's election victory a "great win in Montana," and it's not difficult to see why he'd be pleased. Beyond simply being an overall win for the GOP, Gianforte seems to subscribe to many of the same political beliefs as the president — even echoing Trump's "drain the swamp" rhetoric in his victory speech. Gianforte told the crowd, "It just seems when people go to Washington, D.C., they just drink the water and slither into the swamp," before vowing that, as a congressman, he would "work with President Trump to make Montana and America great again."
But Gianforte's win doesn't exactly reflect an endorsement of his behavior by the people of Montana. For one, ABC News reported that the majority of votes in the special election — nearly 70 percent — were actually cast before the alleged incident occurred. And although Gianforte was considered to be the front-runner in the race, it wasn't exactly a runaway victory: according to CNN, athough the Congressional seat had long been a Republican one (a Democrat hadn't won in two decades), and though Trump himself won the state by 20 points in November, Gianforte took the seat with only 6.4 percentage points over Quist.
In fact, issues with Gianforte's popularity were evident even among Republicans prior to the alleged assault. Corry Bliss, head of a GOP super PAC that spent $2.7 million to support Gianforte's campaign, told The New York Times, that Gianforte was a "C-minus [candidate]" who wasn't polling particularly well, and added that the race "was essentially an unpopular incumbent trying to get re-elected." House Speaker Paul Ryan also publicly chided Gianforte following news of the assault, telling reporters he though the candidate should apologize. Ryan said,
I know he has his own version, and I'm sure he's going to have more to say, but there's no call for this, no matter what — on any circumstance.
Gianforte did apologize Thursday following his win, according to The Guardian, and said that he'd "made a mistake," and was "not proud of what happened." He then addressed the journalist directly, adding, "I should not have treated that reporter that way, and for that I'm sorry, Mr. Ben Jacobs."
Gianforte also vowed to stay under the radar as a congressman, telling supporters that they "deserve a congressman who stays out of the limelight and just gets the job done," according to ABC News. But judging from his past comments and his expressed political views, it seems that Gianforte doesn't exactly seem too concerned about political correctness.
He Isn't A Fan Of The Press
Not at all unlike the president, who regularly criticizes the media and who often refers to unfavorable coverage about him as "fake news," Gianforte hasn't exactly kept his disdain for reporters a secret — even before the incident with Jacobs.
According to Los Angeles Times, Gianforte's relationship with the news media has been a rocky one even from the beginning: when he entered politics last year with a run for governor, he "refused to take any questions for reporters" at his campaign kickoff, and after he won, "he would avoid journalists at town halls and meet-and-greets with voters."
Back in April though, Gianforte landed himself in hot water for comments he made about the media during an appearance at a 56th birthday party thrown in his honor by local Christian group, the Advancing Conservatism Society. According to The Missoulian, a man in the audience spoke towards the end of Gianforte's speech to the group, telling the candidate that "our biggest enemy is the news media" and asking him, "how can we rein in the news media?" The man then allegedly turned to local news reporter Perry Backus, who was covering the event and who happened to be sitting next to him, and "raised his hands as if he would like to wring his neck."
In response, Backus claimed that Gianforte pointed at him and replied,
We have someone right here. It seems like there is more of us than there is of him. I don't have a simple solution for you. I will say that doing town hall meetings and getting out and visiting with people is very important.
In an interview a week later, Gianforte apologized for his comments, according to The Missoulian, and claimed that they were meant to be a joke.
He Doesn't Hesitate To Shut Down Questions
Gianforte might not enjoy speaking to reporters, but it seems that, in general, there are certain topics he just doesn't want to talk about. According to BuzzFeed, Gianforte — a former tech entrepreneur — moderated a panel Last September at the Montana High Tech Jobs Summit, a month after filing preliminary paperwork to run for governor. During the panel, an audience member reportedly asked whether passing a religious freedom law in Montana would affect local businesses. After one local panel member replied by saying that the issue "was not on our radar," BuzzFeed said Gianforte "abruptly" moved on, and quickly asked for the next question.
It's not the only time Gianforte has seemingly attempted to avoid questions he doesn't like though. When asked by Politico in December whether he was in favor of "rolling back gay marriage," Gianforte answered that he was "a Christian," and that "his faith was very important to [him]," but then spoke about his desire to "focus on the economy." And when asked by the Associated Press how religion would influence his politics, he replied by saying that "the focus is on jobs," according to BuzzFeed.
Gianforte's dislike of difficult questions certainly seemed to have been a big factor in the incident with Jacobs. According to NPR, Gianforte became angry after Jacobs asked him about the Congressional Budget Office's scoring of the American Health Care Act. On the audio provided by Jacobs from the alleged assault, Gianforte shouted, "I'm sick and tired of you guys." Three Fox News reporters who witnessed the incident said he then "grabbed Jacobs by the neck with both hands and slammed him into the ground ... then began punching the reporter."
He Is Supportive Of Religious Freedom Laws In Montana
One thing he has spoken out about though? His concern over anti-discrimination laws meant to protect the LGBT community. According to BuzzFeed, Gianforte contacted ran a "month-long lobbying effort" against proposed anti-discrimination laws in Bozeman, Montana, pushing officials not to support the ordinance that would give LGBT residents legal recourse against discrimination, as he argued it would discourage Christian businesses from locating there.
In an e-mail, Gianforte wrote,
Homosexual advocates try to argue that businesses are leery of locating in towns that aren't friendly to homosexuals. I believe the opposite is truer ... I would argue that Christian businesses will carefully evaluate where they would be subject to an ordinance like this before locating. To include even locating just outside city limits to avoid having to compromise their religious beliefs.
While Gianforte's name might not have been well known to many Americans prior to the election — and the headline-grabbing assault charge — it seems that trying to keep a low political profile may have been an important part of his strategy. While he and President Trump may align in their view of the press and the political "swamp," Gianforte seems to have tried to keep his controversial views from becoming the focus of his campaigns, preferring instead to focus on what he considers to be his commitment to the economy.
There's no question though, that the assault charge against him has understandably brought with it more scrutiny of his political views and policies. And despite his election win, that extra criticism may not be dying down anytime soon: according to NPR, Gianforte's assault charge will require him to appear in court by June 7. And if he's convicted, he could received a fine of up to $500, or up to six months in jail for his actions.