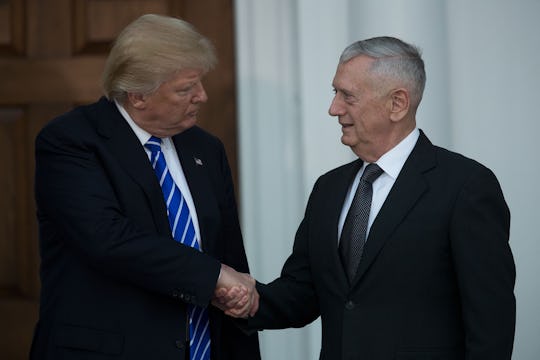 Drew Angerer/Getty Images News/Getty Images
Quotes From James Mattis Show Trump's Defense Secretary Has Strong Opinions
At a rally in Ohio Thursday, President-elect Donald Trump told the crowd that, on Monday, he'd officially be announcing that he has chosen retired Marine Gen. James Mattis as secretary of defense, referring to him by his nickname, "Mad Dog Mattis." Unlike some of Trump's Cabinet picks, Mattis seems to be largely well-liked and respected, including by many so-called "establishment" politicians who haven't always agreed with Trump. But Mattis is also known for his at-times aggressive remarks or controversial remarks. These quotes from James Mattis show that, while he may be a generally-welcomed Cabinet pick, Trump's new defense secretary certainly hasn't been afraid to speak his mind.
According to The Washington Post, Mattis is a more than 40-year veteran of the Marine Corps and and most recently held the role of Chief of U.S. Central Command under President Obama until 2013. He's been described as a highly-influential military leader and thinker, and many have seen his appointment as having the potential to moderate some of the more controversial aspects of Trump's defense strategy, easing some of the concerns about Trump's earlier appointment of anti-Islamist retired Army Gen. Mike Flynn (whom Salon described as a "right-wing fruitcake") as his national security adviser. Arizona Sen. John McCain, for example, who has clashed with Trump on a number of issues, recently raved about Mattis, and said that "America will be fortunate to have General Mattis in its service once again," while Texas Congressman Mac Thornberry, chairman of the House Armed Services Committee, called Trump's pick an "excellent selection," and commented that he is "grateful for [Mattis'] willingness to serve in this capacity."
But while he may receive praise for his strength and experience, there's no doubt that, just like Trump, Mattis is a man of strong opinions. And, just like Trump, he's not exactly known for his subtlety. According to The Guardian, there's even a hashtag-spawning nickname for "Mad Dog" Mattis' signature blunt remarks: #Mattisisms. Some of his most notable eyebrow-raising quotes and quips? According to Politico, Mattis once told a group of about 200 Marines that he thought "there are some a**holes in the world that just need to be shot," and also once reportedly advised Marines in Iraq to, "be polite, be professional, but have a plan to kill everybody you meet."
In 2005, Mattis was criticized for remarks he made about it being "fun to shoot some people" while discussing fighting in Afghanistan and Iran. According to CNN, Mattis was taking part in a panel discussion in San Diego, California, when he said,
Actually it's quite fun to fight them, you know. It's a hell of a hoot. It's fun to shoot some people. I'll be right up there with you. I like brawling.
You go into Afghanistan, you got guys who slap women around for five years because they didn't wear a veil. You know, guys like that ain't got no manhood left anyway. So it's a hell of a lot of fun to shoot them.
But despite at times making comments that have been seen as flippant or callous, Mattis has also been known to emphasize the importance of steadiness and restraint in military strategy. According to Politico, Mattis' advice to his Marine unit prior to the 2003 invasion in Iraq was to "engage your brain before you engage your weapon," and emphasized that "while we will move swiftly and aggressively against those who resist," they should "treat all others with decency, demonstrating chivalry and soldierly compassion for people who have endured a lifetime under Saddam's oppression."
Mattis is also generally not supportive of using torture techniques, which is something Trump himself recently said came as a surprise. During his recent interview with The New York Times, Trump called Mattis "a strong, highly dignified man," and said,
I met with him at length and I asked him that question. I said, 'What do you think of waterboarding?' He said — I was surprised — he said, 'I've never found it to be useful.' He said, 'I've always found, give me a pack of cigarettes and a couple of beers and I do better with that than I do with torture.'
Trump added that Mattis' comment didn't necessarily change his position on the issue (adding, "Look, we have people that are chopping off heads and drowning people in steel cages and we're not allowed to waterboard"), but he did say he was "impressed by that answer," suggesting that Mattis' views could potentially push Trump's military views more in a more moderate direction as they continue to work together.
According to Business Insider, in a military counterinsurgency manual Mattis co-authored with retired Army Gen. David Petraeus, he further advocated for discipline and calculated decision-making, and wrote, "If in order to kill the enemy you have to kill an innocent, don't take the shot. Don't create more enemies than you take out by some immoral act." And in 2003, Mattis also reminded Marines that they should prioritize acting honorably above all else:
For the mission's sake, for our country's sake, and the sake of the men who carried the Division's colors in past battles — 'who fought for life and never lost their nerve' — carry out your mission and keep your honor clean. Demonstrate to the world there is 'No Better Friend — No Worse Enemy' than a US Marine.
Overall, Mattis' appointment seems to be one that being mostly well-received, but there may still be one major obstacle standing in his way of actually assuming the role. According to The Guardian, Mattis will require a special waiver from Congress in order to be officially appointed as Trump's secretary of defense, because the role requires that the individual be out of uniform for the a minimum of seven years.