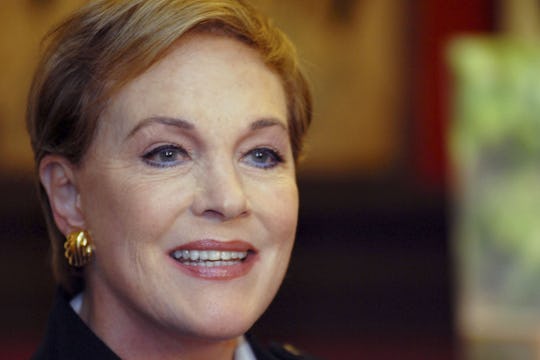 Rob Loud/Getty Images Entertainment/Getty Images
Julie Andrews Defends The Arts In An Inspiring Essay
President Donald Trump's budget proposal, which was released Thursday, has already been harshly received by almost everyone who's read it, in part because it seeks to kill funding for hundreds of public services. A few of those services named in the budget slash include public broadcasting, after-school programs, and school programs and initiatives for the arts. In response to the proposal, iconic actress and singer Julie Andrews published an impassioned essay about the arts this week, and it poignantly proves why the president's proposal is so dangerous to kids and their success in school.
Andrews and her daughter, Emma Walton Hamilton, quickly penned the piece for CNN on Thursday, calling out Trump by outlining who would suffer, should Congress approve his budget proposal in its current state (unlikely, but still a concerning notion). In his first proposed budget, Trump opted to eliminate funding for many valued public programs, including the Corporation for Public Broadcasting and the National Endowments for the Arts and Humanities, which the pair called "mind-boggling" because kids' participation in arts creates "measurable success" in school. That's because, as Andrews pointed out, "decades' worth of research attests to the fact that the arts are among the most profoundly important and valuable ways to improve learning and promote success." (There are several studies to back that statement up.)
With such vital funding at risk, Andrews' essay reminds us (and hopefully Congress) why arts programs in education are so crucial for kids' growth, especially for those who struggle to express themselves.
Here are five quotes from Andrews' powerful essay that outline why taking the arts away from kids and the communities they interact with would be a huge loss for the nation's growing minds.
On How The Arts Don't Discriminate
Andrews explained that people who engage regularly with the arts are statistically linked to higher success rates in school:
These students have higher grade-point averages and standardized test scores, and lower dropout rates, and they reap these benefits regardless of socioeconomic status. And yet, the arts are the first to go when the budget ax falls.
On The Overall Benefits Of The Arts
Andrews explained that her experience in the arts has only benefited her life and the world we all live in:
They foster collaboration and creativity, essential skills for navigating in the workplace and surviving in a challenging world. They cultivate empathy and tolerance, by bridging cultural and socioeconomic divides. They're also good for business: They spur urban renewal, promote tourism and generate hundreds of billions of dollars in economic activity annually.
On Its Economic & Health Benefits
Andrews elaborated on how those who support the arts, in turn, subsequently support our economy and health care environments as well:
The typical arts attendee often shops and pays for meals, parking, babysitting and other services while attending cultural events or arts programs. And the use of arts programs in health care environments has even been shown to deliver benefits like shorter hospital stays and better pain management.
On How Arts Can Give Anyone A Sense Of Direction
Andrews detailed some of her daughter's experience with students who were given opportunities through the arts:
There was the shy young woman who blossomed after being given the responsibility of leading the scene change crew, and the young man who had never been in a play, but who, despite having endured a broken wrist in a gang fight earlier in the day, showed up to perform that evening nonetheless. There was the boy who courageously confronted his years of sexual abuse by writing, and then acting in, a play about his experiences.
On The Past, Present, & Future
Andrews explained that the arts, whether it's beautiful music or a hand-crafted sculpture, are how we remember our pasts and where we came from:
The arts are fundamental to our common humanity. Every time we attend the theater, a museum or a concert, we are literally feeding our souls, and investing in and preserving our collective future.
The impact on taking away an outlet for America's future artists to learn their skills and express themselves would be immeasurable loss. Without funding to support the programs that welcome the arts, these passions may be missed completely and — as Andrews, in all her wisdom, advised — so will all of the benefits the arts bring.