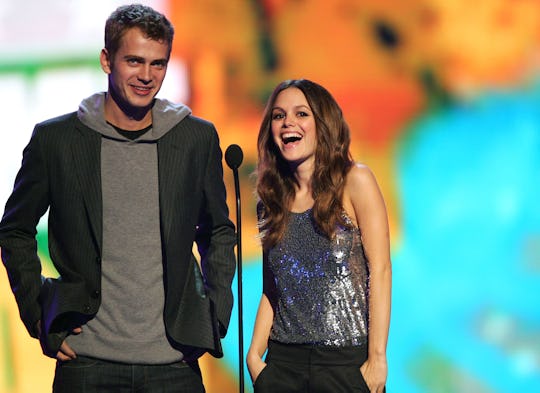 Ethan Miller/Getty Images Entertainment/Getty Images
Rachael Bilson's May The 4th Instagram Post Proves She & Hayden Christian Were Meant To Be
It's a match made in a galaxy far, far away. Rachel Bilson's May the 4th Instagram post proves that longtime partner Hayden Christensen and her were made for each other. May 4 has become a holiday celebrated by Star Wars fans around the world. Stemming from the fact that "May the Fourth" is a phonetic play on Jedi catchphrase, "May the Force be with you," the day has been dubbed Star Wars Day. What was once a grassroots tradition has, thanks to Internet memes and social media, become a legitimate part of the pop culture calendar.
Actress Rachel Bilson got into the Jedi spirit Wednesday posting a flashback photo on Instagram to commemorate the beloved sci-fi series. In the pic (taken a long, long time ago), a very young Bilson, sporting a red party hat, holds up wrapping paper portraying the epic Death Star light-saber battle between Darth Vader and Luke Skywalker in Return of the Jedi (from the original trilogy).
"May the 4th be with you," reads the caption. The former O.C. star, mom of one, and all-around casual fashionista finished her post by adding the hashtag "#meanttobe," referring to her long-term relationship with Christensen.
Christensen starred as Anakin Skywalker — the future Darth Vader (sorry, spoilers) — in two Star Wars prequels in the early 2000s. Bilson and Christensen met in 2007 on the set of Jumper and the pair have been dating ever since. The Hart of Dixie actress gave birth to the couple's first child, Briar Rose (named after the Disney princess, aww!), in 2014.
The first organized celebration of Star Wars Day took place in 2011 at the Toronto Underground Cinema. On May 4 of that year, the Canadian theater screened all six movies and held a costume contest judged by local celebs; other film clubs and companies followed suit. Today, May 4 is a time for fans of George Lucas's saga to express their love for the biggest movie series of all time. (And for companies to dress their mascots in Darth Vader and Princess Leia costumes to help sell toilet paper or cars.)
Obviously, as seen in this May the 4th flashback photo, Bilson's early appreciation of the George Lucas films and Christensen's role in the prequels confirms that their love was written in the stars before they ever met. You never know but with a whole new crop of Star Wars films coming out, maybe Christensen will get to reprise his role and Bilson can nab a cameo as a stormtrooper or rebel fighter and live out her dream of being a part of the fantasy universe alongside her beau.