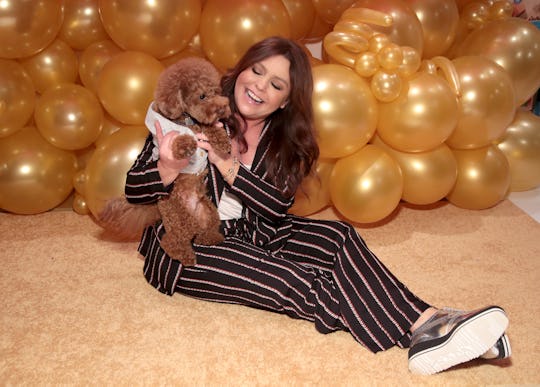 Cindy Ord/Getty Images Entertainment/Getty Images
Rachael Ray's Nutrish Dog Food Brand Is Being Sued For Allegedly Containing Harmful Chemical
Earlier this week, it was first reported by The Blast that a dissatisfied customer is suing Rachael Ray's dog food company Nutrish. The customer alleges that the dog food contains a "potentially harmful synthetic chemical," despite the label's claims that the product is "natural," according to court documents obtained by The Blast.
Court documents also shared by E! News describe the $5 million lawsuit and the alleged problems with the dog food in detail. The plaintiff, Markeith Parks, is technically suing Ainsworth Pet Nutrition, Nutrish's parent company, for not disclosing the chemical glyphosate's alleged presence in Nutrish products. According to E! News, the court documents state that the dog food's "aggressive" claims in its advertising that its "natural" are untrue. In fact, Parks alleges that the "claims are false, deceptive, and misleading" because the food contains "the unnatural chemical glyphosate, a potent biocide and endocrine disruptor, with detrimental health effects that are still becoming known," as reported by The Blast.
According to the National Pesticide Information Center, some studies show that glyphosate is potentially carcinogenic, that it has been associated with non-Hodgkin lymphoma, and that it might be associated with cancer.
So, if glyphosate was not listed as an ingredient, how did Parks know that the dog food allegedly contains this chemical? "Tests conducted by an independent laboratory revealed that glyphosate is present in the Products," the lawsuit reads, according to E! News.
The lawsuit continues, as per E! News:
The exact source of glyphosate in the Products is known only to Rachael Ray Nutrish and its suppliers. However, crops such as peas, soy, corn, beets and alfalfa are sprayed with the chemical in order to dry them and produce an earlier, more uniform harvest — a practice with no health benefits, meant only to increase yield...
Bobby Modi, Vice President of Pet Food & Pet Snacks for The J.M. Smucker Company, which recently bought Ainsworth Pet Nutrition, issued the following statement to Romper in an email:
We were disappointed to be recently notified of a lawsuit filed against us claiming we knowingly deceive pet parents about our products. Despite what this lawsuit insinuates, we would never deceive pet parents or use ingredients in our products that harm pets. The pesticide mentioned in the lawsuit, glyphosate, is commonly used by farmers on crops that eventually become ingredients in both human and pet food products. We obviously never add it as an ingredient in our products. All our products meet or exceed federal food safety requirements.
The statement added that they "plan to aggressively defend ourselves against this misleading lawsuit and hope it does not cause pet parents any additional unnecessary concern." Additionally, Modi advised that "if pet parents have any questions or concerns about our pet food or treats, we encourage them to contact us directly at 1-800-323-7738."
Additionally, a spokesperson for Rachael Ray told Romper in an emailed statement that "Rachael herself has always championed the great lengths Ainsworth Pet Nutrition and now The J.M. Smucker Company take to create and provide the highest quality and safest pet food products on the market." The stated added, "This is why she does, and will continue to, feed Nutrish to her own dog Isaboo and her extended pet family."
In addition to requesting $5 million, Parks reportedly wants Nutrish to make some changes, according to People. In the lawsuit, Parks is asking for money to reimburse him for costs such as damages and attorneys' fees, and for Nutrish to suspend sales and advertisements until the brand updates its advertisements.