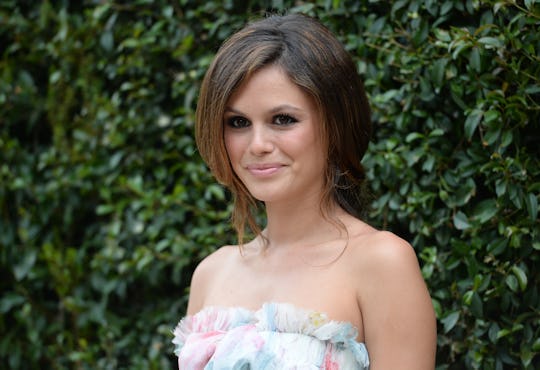 Jason Merritt/Getty Images Entertainment/Getty Images
Rachel Bilson Isn't Ready To Break The 'Darth Vader' News To Her Daughter Just Yet
Breaking bad news to small children is never easy. Explaining the birds and the bees is one thing, but have you ever tried to tell your kid that their dad is a well-known super-villain? Only one mom in the world has this problem, and it's Rachel Bilson. Yes, Rachel Bilson thinks her daughter will freak when she finds out that her dad is Darth Vader, and we have to agree: that is not an easy conversation to have. Bilson recently told People that she and her partner, Hayden Christensen, don't really talk about their day jobs that much around the dinner table. "Especially because her dad is who he is," she explained.
Just in case you aren't a Star Wars buff, Christenson has played Anakin Skywalker in both Star Wars: Episode II and Star Wars: Episode III. Spoiler alert: that means he's actually Darth Vader, which is not the greatest look when you want to be besties with a 2-year-old. "She might be like, 'Oh no! Darth Vader's my dad!' " Bilson said. And she has a solid point. Imagine having to say, "Briar Rose, I am your father" every time you tried to get a toddler to eat their breakfast.
Not easy, and its also sort of rude to make a little person watch all of the Star Wars series knowing all of the spoilers going into it.
Aside from bringing the dark side into the nursery, Bilson is still adjusting to being a mom. Bilson told People that one of the downsides of parenting has been the drastic changes to what "time" actually means. Uh, we get it.
My me time is 'we time' now.' It's always about her. It's not about lying out and watching a movie anymore. Those days are gone! But I'm happy with the new version.
What else can a mom do but adjust? Bilson might be wary of telling her daughter that she fell in love with Darth Vader, but she isn't opposed to some swag. Once upon a time, Bilson posted a picture of some matching Star Wars kicks to Instagram, which means that little Briar isn't totally unaware of her place in Hollywood.
Although Christensen played a character that was out of this world, he is pretty down to earth when it comes to his personal life. And he seems to be on board with this whole "not talking about Darth" with his daughter. After the success of his blockbuster films, Christensen took a break from the big screen. He said of that time, "I guess I felt like I had this great thing in Star Wars that provided all these opportunities and gave me a career, but it all kind of felt a little too handed to me."
To counter that feeling, he bought a farm in Ontario, Canada, and in between movie roles, actually tends to it. He didn't feel any guilt about taking time for himself, which is very relatable. Christensen said, "There was something in the back of my head that was like, 'if this time away is gonna be damaging to my career, then so be it. If I can come back afterwards and claw my way back in then maybe I'll feel like I earned it.'"
All of that aside, fans should probably lobby for a video (or at least a GIF) when the couple finally breaks the news to Briar Rose. Because finding out your dad is Darth Vader has to be hilarious.