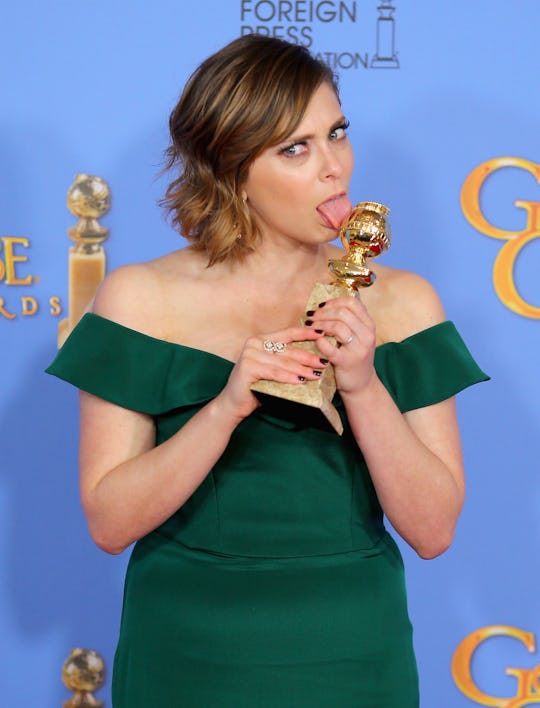 Rachel Bloom Won Best Actress Golden Globe For 'Crazy Ex-Girlfriend' & People Are Shocked
It didn't take long for the 73rd annual Golden Globes to give viewers a shocking moment on Sunday night. Rachel Bloom won the Best Actress Golden Globe for her role in Crazy Ex-Girlfriend, leaving many people shocked and asking themselves, "Why am I not watching Crazy Ex-Girlfriend?"
In her acceptance speech, Bloom was quick to point out how close the show was to never see the light of day. According to actress, the series was turned down by numerous networks before getting picked up by the CW for the 2015-2016 season. In the comedy, Bloom plays Rebecca Bunch, a wildly successful woman who seemingly "has it all," but is missing one thing in her life: romance. After running into her former lover, she decides to give up everything she has in New York City and move across country to California. As you can imagine, hilarity and shameless blunders ensue.
This was Rachel Bloom's first nomination and win, which made her quick, heartfelt and emotional acceptance speech all the more wonderful to watch. Bloom was clearly as surprised as the rest of us, and her genuine shock and gratefulness was obvious when she accepted her award and thanked a long list of people and supporters.
Golden Globe viewers took to twitter to congratulate the actress as well, adding to a night Bloom is sure to never forget.
Congratulations, Rachel!
Images: Mark Davis/Getty