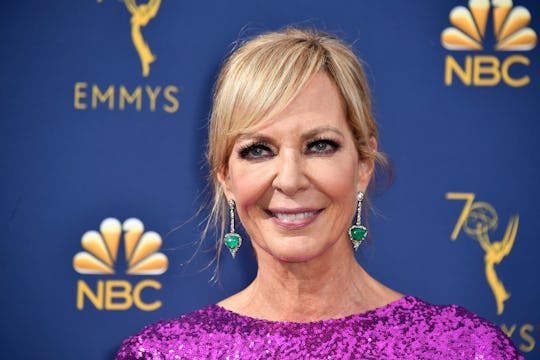 Frazer Harrison/Getty Images Entertainment/Getty Images
Allison Janney & Other Stars Use The 2018 Emmys To Encourage Viewers To Vote
There's nothing new about celebrities using award shows as a platform to talk about big issues, both social and political. So it wasn't too surprising when actresses Allison Janney and Rachel Brosnahan encouraged audiences to vote at the 2018 Emmy Awards. As Brosnahan explained during her Emmy acceptance speech, "One of the most important ways to find and use your voice is to vote."
Even before the show began Monday night, Janney tweeted about the #IAmAVoter campaign at the Emmys. "Democracy works best when we ALL participate so get registered and let's get everyone you know to the voting booth this November!" she wrote. According to AListDaily.com, though, celebrities aren't the only ones getting in on encouraging everyone to vote this upcoming election.
A group of brands and companies including AMC Theatres, TOMS, iHeartMedia, Lyft, and Ad Council have come together to form The Civic Culture Coalition. They came up with the I Am A Voter movement that Janney promoted on Twitter before the Emmys and whether or not Brosnahan meant to support the coalition, she also urged viewers to vote this year.
It's not unlike the Rock the Vote movement made popular during the 2004 election. And with upcoming congressional, state, and local elections, I Am A Voter is the latest cause to get people out there to vote and become informed on important political issues.
The 2018 Golden Globes was full of nominees and audience members dressed in black to support the #MeToo movement. The recognition for women who were sexually harassed or assaulted in the workplace and beyond wasn't a political statement so to speak, but it was and still is an important social issue. In a similar vein, Janney's I Am A Voter tweet and Brosnahan's acceptance speech used the 2018 Emmys to bring attention to something important.
Whether your city or state is holding elections for mayor or governor, that's definitely a reason to make sure you're registered and vote when the time comes. Or if you're more concerned with the wider scope of things in the U.S. government, there are also 2018 elections for the U.S. States House of Representatives.
The Emmys in general are no stranger to political statements and outspoken stars making their opinions heard. To see stars urge viewers to vote and make their own voices heard is no big shocker, and it's probably more important than ever with the November election looming ahead. But this year in particular may have been one of the more politically fueled than other recent Emmy Awards. From the "We Solved It!" opening number about racial inequality in Hollywood to Samantha Bee's joke about the news being her newest favorite dystopian TV show, there were plenty of jabs at politics and social issues as well.
Brosnahan plays an up and coming comedian on Amazon Prime comedy The Marvelous Mrs. Maisel and her character is unafraid to voice her opinions — whether they're popular or not. And I don't see anyone taking issue with Brosnahan telling viewers and audience members to vote in November.