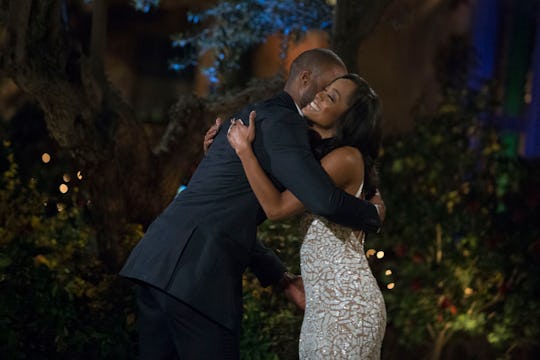 Paul Hebert/ABC
Rachel Confronts DeMario On 'The Bachelorette' In The Best Way
This season of The Bachelorette wasted no time in getting dramatic. On last week's episode, Bachelor Nation met DeMario's ex-girlfriend, Lexi, who was out for revenge. She and her receipts proved that DeMario wasn't here for the right reasons, and Rachel eliminated him immediately. DeMario, however, wasn't going out without a fight — and came back to the mansion later. Not only did she stand her ground, but she made a beautiful off-the-cuff speech that caused social media to cheer. Rachel confronts DeMario on The Bachelorette and fans were so here for it.
DeMario was, at first, one of the favorite contenders for Rachel's heart. He's actually the first one she met — on After the Final Rose from last season. DeMario showed up with tickets to Las Vegas and an engagement ring to elope. Little did viewers know that he wasn't completely broken up with his girlfriend, though. During a basketball group date, DeMario's ex Lexi showed up to tell Rachel the truth. DeMario tried to deny that they were still together when he was going on the show — heck, at first he tried to deny that he even knew who Lexi was, but Rachel saw right through it.
On his drive away from the mansion, though, DeMario decided to shoot his shot and go back to try to win Rachel back. He said he was actually here for the right seasons (sure) and that Rachel changed his life (okay). Once again, Rachel didn't budge. She took down DeMario in a truly amazing smackdown, saying that at the confrontation with Lexi she saw a boy, and she was "looking for a man." As soon as Rachel went off, Bachelor Nation took to Twitter to applaud her:
Fans weren't the only one happy with her decision: the men in the house also cheered her on. Yes, it's partly because it's just one less person competing for Rachel's heart. But it also showed the contestants (and the audience) how strong Rachel is and how she won't be swayed, even by sweet talk. If anything, this could set a precedent as to how Rachel acts throughout the season when she's upset. If that's the case, these men will know they can't mess with her — and Bachelor Nation will enjoy every second of it.