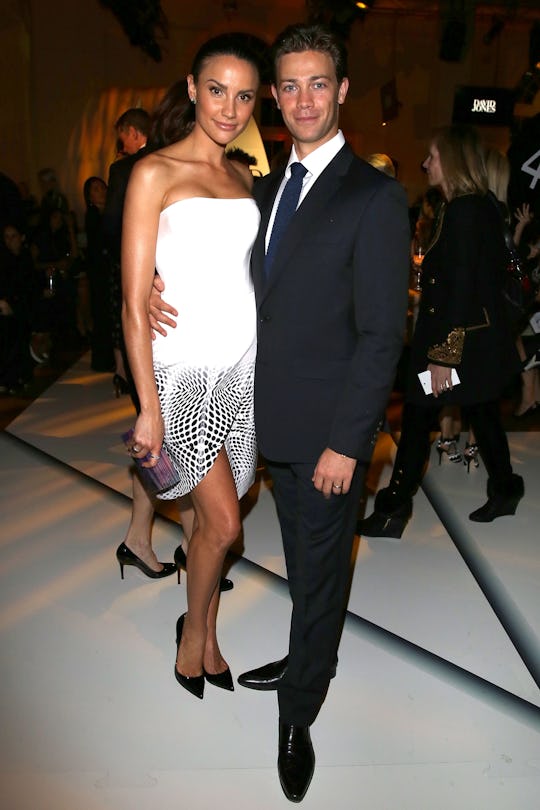 Caroline McCredie/Getty Images Entertainment/Getty Images
Rachel Finch & Michael Miziner Go "Child-Free" Every Weekend, & Here's Why That's OK
A few weeks before my daughter was born, my husband and I began having a conversation: the "are we ready for this" conversation. We talked about our hopes and fears. We talked about how parenthood would change us, we discussed how it wouldn't, and we naively made promises we couldn't keep. (I vowed to change my clothes every day, to shower often, and to keep some of that sexy spice in our marriage. Ha!) What we didn't realize was how much parenthood would change our relationship. We didn't understand the effects parenthood would have on our marriage — but that is the reason for date nights and child-free time, right? (Right?!) But what about going "child-free" every weekend? Can most parents even imagine having alone time each and every Saturday night?
Well, that is exactly what Australian model and TV host Rachael Finch and her husband Michael "Mish" Miziner, do. In an interview with Sunday Style, Finch explained the couple's decision to have "child-free" weekends every weekend:
Every weekend (Violet) goes to Mish's mum's house, and we get our weekend to ourselves. I think that's incredibly healthy for the relationship. And on Sunday, when we pick her up, we have 100 percent energy back.
(Speechless. This left me speechless.)
When I initially read Finch's statement, my gut reaction was one of anger. I wanted to be short and snarky: I mean, it must be nice to sleep in every weekend. It must be nice to eat a meal without it being thrown back in your face, and it must be nice to feel fully energized and refreshed. But I was also sad: don't Finch and Miziner want to spend time with their daughter? Don't they want to spend time together as a family? And, according to Facebook, I wasn't alone in these thoughts. Many felt that way, according to one Facebook commenter on a Scary Mommy post:
Ummm, I can understand wanting time every now and then to reconnect and focus on one's relationship, but every weekend?!? Why have kids if they are shuffled around to other family members all the time?!?
Another added:
This is really bizarre. I completely value time away from my kids, but it's an exception, not the standard. No way could I have someone parent my child every single weekend. Poor kid.
However, the more I sat with Finch's words — and the more I thought about their "child-free weekends" — the more I understood them, and their decision. Because children do change your relationship. After the birth of my own daughter, my husband and I struggled: my husband and I considered divorce. But eventually we asked for help; we got help, and, while my daughter is not away every weekend, she does spend at least two days a month with her "Nana" and "Pop-Pop," because it is good for her, it is good for her grandparents, and it is great for my husband and I. The alone time helps strengthen our bond, and it helps to make us more loving and capable parents.
Does that mean "child-free weekends" are right for everyone? No. Of course not. Does that mean you cannot have a strong relationship with your spouse if you spend most days together as a family? No. Not at all. However, it does mean that sometimes, as a parent, you may need a break. Sometimes you may need to ask for help, or — as one Facebook user added — "remember - you don't have to be superwoman and go it alone to be a great mother....[sometimes] 'it takes a village to raise a child.'"
It also means Finch is not a "bad mom" for taking time for herself — and her husband — as many have implied. And it means my initial reaction was wrong and judgmental.
Finch responded to the backlash on Instagram:
A Mother should never be made to feel they are not good enough for their child when they are doing everything they can to keep them safe, happy and loved. Only the parents of a child truly know what is best and should always have faith in their decisions. I value dearly the relationship Violet has with her Grandmother and I believe this is one of the most important and influential relationships growing up. I work hard so that I can provide the best future for the amazing soul we have created. I won't ever stop believing in her or the strength of the family unit.
And she is right. So very right.
So remember, regardless of whether "child-free weekends" are right for you, keep in mind there is no one-size-fits-all approach to parenting.