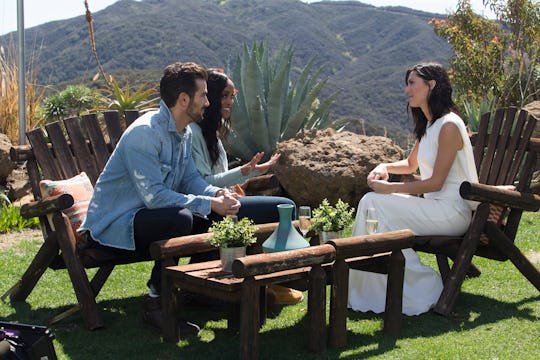 Paul Hebert / ABC
Rachel Lindsay Has Some Very Important Advice For Becca Kufrin
If anyone knows how to find love on The Bachelorette, it's Rachel Lindsay. As a tried and true Bachelorette, Lindsay fared through her own romance and drama until she became happily engaged to her final contestant, Bryan Abasolo. This week, Rachel took to her Us Weekly blog to break down everything that's happening on the current season of The Bachelorette. Rachel Lindsay's advice to Becca Kufrin is actually pretty insightful, because she knows what the bachelorette is going through first hand.
So much like most fans who watch the show, Rachel has a favorite contestant, Blake Horstmann, and she's rooting for him to make it to the end. However, she noted that Becca seems overly smitten by Garrett Yriogen, and thinks that she's not giving herself the chance to connect with the other guys because of it. In her recap blog, Rachel explained:
"I don't have much to say about the one-on-one with Garrett and Becca. It's not because I don't have any opinions; it is because Becca said it all in her interviews about Garrett. At this point, I am comparing every date to Garrett's. He set the standard of what Becca likes."
In her blog, Rachel noted how much and how lovingly Becca talks about Garrett, and she believes that it she's falling for him a little too fast. Of course, everything in Bachelor Nation runs faster than normal, but Rachel thinks that Becca should still step on the brakes for a moment to give the other contestants a fair shake:
"Becca left nothing to the imagination. She put it all out there with Garrett. Sis, I do hope you slow down just a bit. I am nervous that Becca is already so blindly captivated by Garrett that she won't be able to see the essence of the other men, like Blake. He is my favorite."
Like most of Bachelor Nation, Rachel is looking out for Becca, and hoping she doesn't dive into a relationship too fast or too hard. After the heartache and pain that Arie Luyendyk Jr. caused her on the last season of The Bachelorette, people are hoping that Becca keeps her guard up this time around.
However, as protective as fans and friends might be, it looks as if she is already falling for Garrett, big time. During their one-on-one bobsledding date this week, the chemistry between the two was undeniable, and Becca even went so far as to say she had "really strong feelings" for him, that he reminded her of her late father, and she revealed that she was already picturing him as her fiance:
"I feel so secure with Garrett, I trust him so completely, He gets me. I just feel like, I could see him at the end of this."
Becca has been consistently leaning towards Garrett from the very first day, when he showed up in a minivan with car seats and diaper bags. She gave him her first impression rose, and it looks like that it might just have been love at first sight. So it was no surprise that Garrett ended up getting rose at the end of the episode, and after seeing the two together, I won't be surprised if he makes it to the end.
Rachel chimed in on a few of the other dates as well, including Jean Blanc who told Becca he was falling in love with her, and then took a step back when she told him she didn't feel the same way. Rachel mentioned:
"I think it was obvious Jean Blanc meant what he said to Becca but he was embarrassed at her response. That's clear. Sure, he was a bit of a dirty dog for what he did, but the man was ashamed. He left walking away with his tail between his legs."
When it comes to Jordan, the narcissistic supermodel who is in the cross hairs of David's bullshit detector, I completely agree with Rachel's sentiment:
"Jordan goes as far to say that because he prays every day and talks to God that people that cross him just get hurt sometimes. What kind of prayers are coming out of Jordan's mouth and what kind of God is he praying to? When it comes to Jordan praying, let's just thank God for the unanswered prayers. I will admit though, I look forward to his comic relief on the show. Everyone else just seems so serious."
Things are unfolding pretty quickly on this season of The Bachelorette, and it looks like Becca isn't in it to play games. She seems steadfast in her determination to find true love, and her fans and friends, including Rachel, are all rooting for her. Sometimes it takes losing something to figure out what exactly you need, so I have faith that Becca will make the right decision and find the connection she's been looking for.