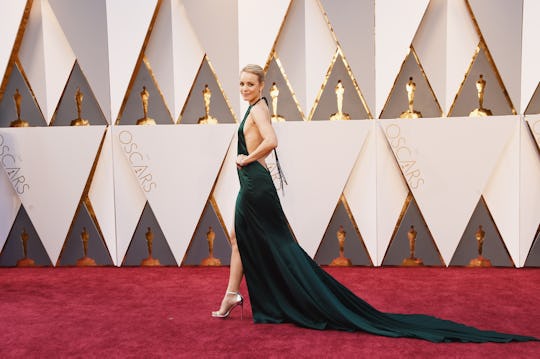 Jason Merritt/Getty Images Entertainment/Getty Images
Rachel McAdams' Oscars Dress Deserves Its Own Award
Nominated for the Best Actress Academy Award for her role in Spotlight, a film that tells the story of a team of Boston Globe journalists in 2001 intent on revealing the alleged cover-up of a sexual abuse scandal within the Catholic Church, Rachel McAdams has been a mainstay on this season's red carpet. Adams' style always highlights her fresh, fun, and innovative take on high-end looks, and Rachel McAdams' Oscars dress at the 2016 award show was further example of that.
She showed up at the show wearing a sleek, forrest green low-back, thigh-high gown, and I immediately was reminded of how much I've missed her on the award-show circuit in the past. I was blown away by Adams' stunning Elie Saab dress at the SAG award show because it just looked so effortlessly good on McAdams. The floor-length silhouette was a nod to old-Hollywood glamour, yet also fun and modern enough to have place on the red carpet in 2016. The low-back gown had so many working elements: timeless, chic, feminine, gothic, and edgy — and to cap off the entire ensemble, McAdams' low-key curls, smoky eye, and nude lip acted as the perfect complements. A month earlier, at the Golden Globes, McAdams stunned in a strapless watercolor floral Lanvin gown that she paired with a bright red lip, minimal accessories, and a sky-high updo. It was, unsurprisingly, a complete success.
MARK RALSTON/AFP/Getty Images
VALERIE MACON/AFP/Getty Images
At the 2016 Academy Awards, McAdams pulled out all the stops. It's no surprise that she was save her most "exciting" look for the Oscars show, given that it is the final and, arguably, the most important, show of the award-season cycle, but because her fashion choices have been so stellar so far, it was refreshing to see her really cap the show off with a bang.
Here's a peek at her look tonight:
Hot damn.