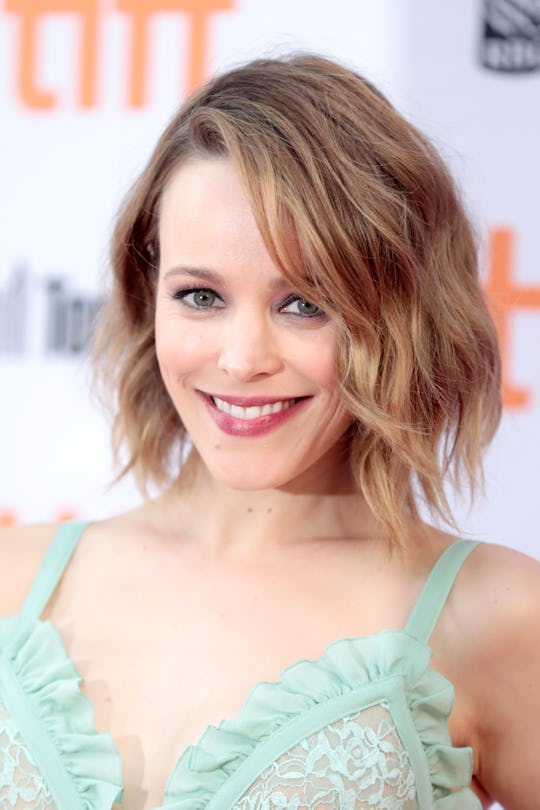 Brian de Rivera Simon/Getty Images Entertainment/Getty Images
Rachel McAdams Reportedly Welcomed Her First Child In Secret, & Fans Are So Excited
Guys, Rachel McAdams is officially a mom! Or at least, that's what it looks like. This news comes after sources reported in February that the former Mean Girls star was pregnant with her first child. But here's the thing: She still hasn't confirmed any of it. Not the alleged pregnancy. And not the reported birth. Nothing. In fact, I'm picture the former Mean Girls star sitting around with her baby boy and thinking, "Why are you so obsessed with me?" Because it definitely looks like Rachel McAdams welcomed her first child, and we didn't even know it. Romper has reached out to McAdams' rep, but did not immediately hear back.
The actress reportedly gave birth to a son with her boyfriend, Jamie Linden, Us Weekly reported. And the only reason anyone outside of her inner circle knows is because McAdams was spotted walking her screenwriter boyfriend as he carried what is presumably their newborn. Reports of a possible pregnancy first started circulating in February, when she didn't make an appearance at the Los Angeles premiere of her film Game Night, E! Online reported. Since then, the actress has managed to keep a low profile — and the last time paparazzi caught up with her was while she was wearing a baggy jacket at a Toronto airport.
Of course, none of this is a particularly huge surprise to fans; McAdams has remained pretty private about her personal life through the years. The actress has never even confirmed her relationship with Linden, for example. In June 2016, however, a source confirmed to Us Weekly that McAdams and Linden were officially and item, after they attended a wedding together in Virginia. "They're dating and he took her to that wedding," the source told the publication. The duo was spotted together at Comic-Con the very next month.
All the way back in 2009, the actress opened up about her desire to one day become a mother. "Having a few [kids] would be great," she told People. "My mom is a great inspiration to me ... She's a nurse and very nurturing and gentle. She lets me be who I am. Hopefully I can take on those qualities and be as great as her."
As exciting as this news may be to fans of Rachel McAdams, it's worth pointing out that the actress may not have wanted the world to find out about her son in this manner. I mean, clearly she went to great lengths to steer clear from the spotlight — even skipping the premiere of one of her own movies. So I can imagine McAdams could be fairly pissed right about now, as the news is spreading like wildfire after her privacy was essentially invaded. And I wouldn't blame her in the least.
I mean, don't celebrities have the right to announce major life events on their own timeline? Granted, Kylie Jenner's pregnancy was the worst-kept secret of all time, thanks to anonymous sources — but she never faltered in her determination to do things her own way. The same goes for Jenner's big sister, Khloé Kardashian. But they tried! Imagine how mind-blowing it would have been to fans if the Kar-Jenner sisters succeeding in keeping their baby news completely secret until the perfect moment of their choosing? Our minds would have been absolutely blown. (Kind of like when it was announced that Anna Kournikova and Enrique Iglesias had secretly welcomed twins, according to Elle.)
Because high-profile celebrities are under a paparazzi/social media microscope around the clock, the slightest shift in the frequency of appearances or posts — or perhaps an extra-large meal that causes belly bloat — results in pregnancy rumors right off the bat. I can't imagine how frustrating this must be for them. If the reports are true, I wish McAdams and Linden the best. And hopefully, the paparazzi won't continue to hound them as they continue to acclimate to new parenthood.