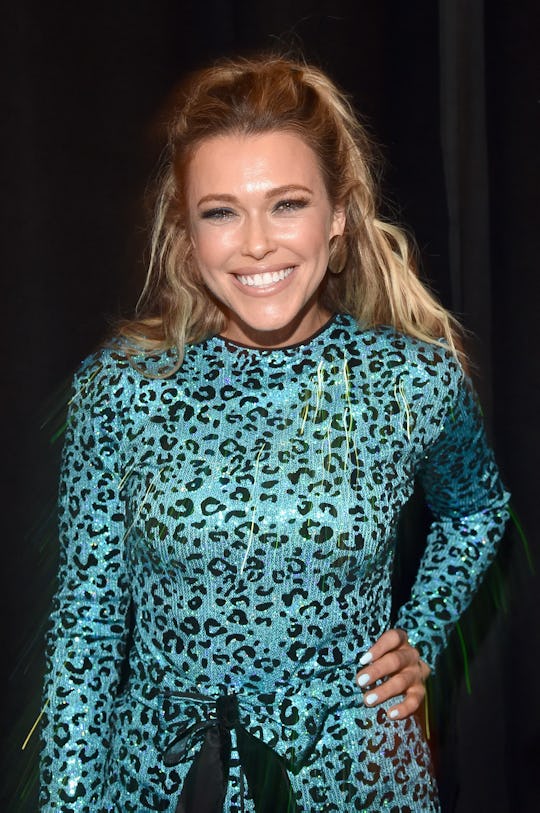 Alberto E. Rodriguez/Getty Images Entertainment/Getty Images
Rachel Platten Gets Real About How She's Feeling In Her Third Trimester
The very end of a pregnancy is one of those things where you just have to get through it. I, personally, felt sluggish, out of breath, and had to drag myself around. On her Instagram account, the "Fight Song" and "Stand By You" singer seems to be feeling the same way. Rachel Platten is feeling so pregnant and it's totally relatable for any mom.
On her Instagram account, Platten's words about how she's been feeling in her third trimester before she delivers her first baby, a girl, were so refreshing and honest.
"I'm just in suuuuch a different space [right now] and primarily concerned in this last month with making it a calm stress free vibe for her," the star captioned a selfie, which shows her bump in profile.
"I like these pants and maybe one other pair cuz everything else makes me feel like my belly weighs a thousand pounds and is too heavy to carry around... I took a breastfeeding class and it was the most intimidating amount of material ever," Platten continued. "Woah i thought you just like put the boob in the [baby's] mouth. Nope."
The singer then went on to add that she was too tired to even edit what she was typing, "so you're getting streaaaam of consciousness... I miss being old me who did fun things and went places and was busy!"
Oh, Rachel, boy, I feel you, girl. And so did her fans, who offered everything from prayers to encouragement to specific website resources for breastfeeding.
"I am due any day and can relate to all of this x1000! Hang in there mama!" added one user.
"Love you Rachel! Just think in a few weeks you'll be holding your little angel in your arms where she's safe and calm ❤️😘👶🏼," another commented.
After Platten mentioned that she just learned her beloved kombucha isn't the best thing for breastfeeding, another fan reminded her to try not to sweat the small stuff: "There are so many things people will scare you out of doing when you're a mama. You will do a great job."
Platten, who announced her pregnancy on Instagram in July, is due within the next month, as she told fans on her social media. Married to longtime partner, Kevin Lazan, according to Us Weekly, Platten has been spending way more time on her Los Angeles couch than a world-famous star might be used to, as her Instagram account shows.
But it's all part of this new phase of her life, to which she's been frankly sharing the ups and downs of her adjustment. (To be sure, she has gotten out a bit, such as debuting her new song "You Belong," dedicated to her daughter, on Good Morning America. Not too shabby.)
According to Us Weekly, Platten's pregnancy adjustment has also been a mental one. The singer has clearly been trying to figure out how she will balance her professional passion for music with parenting.
"Even though I'm in my third trimester... I realized that neither being pregnant nor having this baby will ever prevent me from doing what I love so much in the world. This is me choosing bravery over fear and a little temporary expansion in the midst of some serious nesting," Platten captioned an Instagram post announcing the GMA appearance.
Platten is just so relatable, and she expresses herself so beautifully, it's no wonder that her songs become anthems. And that's the thing: No one ever knows how they're going to juggle it all. Platten will find a way, I have no doubt. In the meantime, this third trimester can be a real doozy, because you feel exhausted, yet nothing has actually happened yet. Some things in life, you just have to wait for.
This first-time mom wants to have a home birth, but is she ready? Watch how a doula supports a military mom who's determined to have a home birth in Episode One of Romper's Doula Diaries, Season Two, below. Visit Bustle Digital Group's YouTube page for the next three episodes, launching every Monday starting November 26.