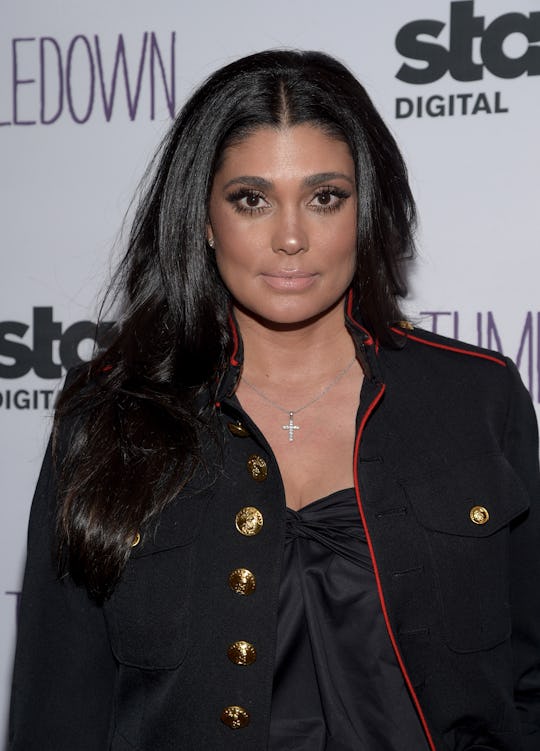 Jason Kempin/Getty Images Entertainment/Getty Images
Rachel Roy Denies Being Becky, & Her Comments About Online Harassment Are Spot On
After posting and then deleting a controversy-causing Instagram post over the weekend, Rachel Roy denied that she's "Becky" from Beyoncé's Lemonade song, "Sorry." For anyone who's been camping with no Wi-Fi since last Friday, Beyoncé's Lemonade album finally premiered on TIDAL on Saturday night, at the same time as her "visual album" aired on HBO. Though there's no official confirmation yet, much of the album seems to be about Beyoncé's husband, Jay Z, cheating on her. In "Sorry," the singer refers to the suspected other woman as "Becky with the good hair," and one of the more popular theories is that "Becky" is actually Roy. But Roy told People magazine, "There is no validity to the idea that the song references me personally. There is no truth to the rumors."
During the airing of the HBO special, Roy posted a photo of herself and a friend to Instagram with the caption, "Good hair don't care, but we will take good lighting, for selfies, or self truths, always. Live in the light #nodramaqueens." If the "good hair" reference wasn't bad enough, she was already on the BeyHive's hit list; there's long been speculation that she was the catalyst for Solange and Jay Z's infamous 2014 Met Gala elevator fight. The post, which has since been deleted, was immediately inundated with harsh comments from Beyoncé fans.
After deleting the post didn't work, Roy briefly set her Instagram account to private, which led to Beyoncé fans attacking her teenage daughter, Ava Dash, on social media. I won't bother quoting any of these sociopaths, because it's not hard to guess what they were saying; I'll just point out that even if Jay Z and Roy once had an affair (and that's a huge, huge if), that still has absolutely nothing to do with her 16-year-old kid, and cyberbullying a child because you're a big fan of a song that could possibly, briefly reference her mother is disgusting.
In a statement to People, Roy said, "[O]nline haters have targeted me and my daughters in a hurtful and scary manner, including physical threats. As a mother — and I know many mothers would agree — I feel that bullying in any form is harmful and unacceptable. I would hope that the media sees the real issue here — the issue of cyber bullying — and how it should not be tolerated by anyone." Damn right.
But there's also a very misogynistic undercurrent to this bullying. Let's set aside, for a moment the idea that what is or isn't going on is Beyoncé and Jay Z's marriage is anyone else's business, because it's simple enough to make the argument that it became everyone's business when it was (allegedly) laid bare on TV this weekend. Anyone who's even skimmed an article about the album by this point knows that the subject of Beyoncé's ire in each song is... well, let's just call him an unnamed, possibly-fictional husband. The only reference to the other woman was "He only want me when I'm not there/He better call Becky with the good hair." Does anyone recall the lyrics when Beyoncé blamed Becky? Threatened Becky? Called on her legion of fans to harass Becky and her loved ones? Nope, me, neither.
Yet, after a whole album that sounds a whole lot like a woman calling out her husband for cheating, Beyoncé's fans, mostly young women themselves, seem to be giving Jay Z a pass and are instead blaming the alleged affair on the rumored "side piece" and her child — two people who are not married to Beyoncé. Bey's not mad at them, so why are fans lashing out? I'm certainly not advocating for teens to turn their emojis and hatred on the rapper, but if this album is even based in truth (and we still don't know that), he's the one who cheated on his spouse. He's the one the whole album might be about. Yet society is conditioned to blame women when men cheat. Either the wife drove him away, or the other woman seduced him. When will we hold men responsible for where they choose to put their penises?
Again, there are so many "ifs" and "allegedlys" in this story, we really should all just step back and let the Carters deal with their relationship alone. But of course that's not going to happen; Beyoncé (allegedly) invited fans into their marriage when she shared their dirty laundry in Lemonade. But what she never said is that she wanted fans to terrorize a woman she never even named, not to mention a teenage girl. And by the end of the album, it seems like she's forgiven him, so maybe, once again, it's time for fans to mind their own business. At the very least, let's leave Roy and her kid out of this mess.