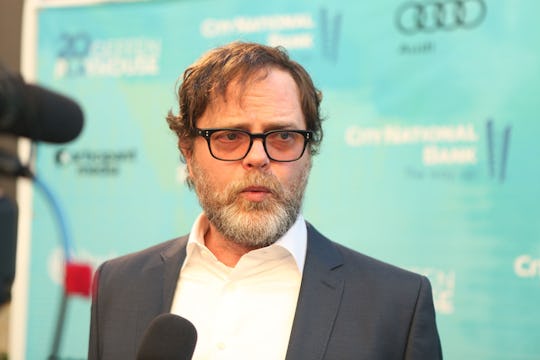 Matt Winkelmeyer/Getty Images Entertainment/Getty Images
Rainn Wilson's Charity Empowers Haitian Girls Through The Arts
Even for those who may not have enough to eat or access to a traditional education, exposure to the arts can be transformative. That's why Rainn Wilson's charity campaign helps girls in Haiti flourish by teaching them creative writing, theater, photography, and film. You may know him best as Dwight from The Office, but Wilson also cofounded and has been running the program LIDÈ since 2013 — and now, he's selling limited edition merchandise to help fund the foundation's work. The merch is hilarious (and incredibly on-brand for Wilson), but here's the best part: One hundred percent of the proceeds will go directly to helping the at-risk adolescent girls in rural Haiti whom Wilson has been striving to reach.
According to Entertainment Weekly, Wilson teamed up with the social merchandising platform Represent to offer the "Beets" merchandise. The t-shirt, sweatshirt, and mug are available online until April 26.
And the money raised will go to a seriously worthy cause. Wilson established LIDÈ along with his wife, Holiday Reinhorn, and executive director Kathryn Adams. The name means both "leader" and "idea" in Haitian Creole, and Wilson and his team aim to harness both those concepts in the work they do. According to its website, the foundation works to transition the girls into an academic or vocational education. It even has its own scholarship fund.
"This is not to train girls to become professional artists," he told Variety in 2014. "This is using the arts to empower girls, help them find their voice, give them hope and help build community. When you teach a skill to a young woman or girl, they will share that information with their friends, their sisters, their aunts, their community. Whereas if you teach young men a skill, they'll leave home and go to Port-au-Prince and become a taxi driver."
Wilson and Reinhorn first visited Haiti in 2009 to take part in a separate, United Nations-sponsored program to offer arts workshops to kids there, according to The Hollywood Reporter. Wilson was initially skeptical about focusing on the arts for kids that seemed to really need basic necessities like shoes. Soon, though, his perspective shifted dramatically.
Reinhorn summed up exactly why the couple knew that this work was so important. "One of my students said to me, 'People come to Haiti and give us rice and shoes and water but it doesn't matter if we don't have hope and that's what we have here,'" she told The Hollywood Reporter.
Hope, skills, community, confidence, literacy, and more: That's what LIDÈ hopes to give these girls. And you can be part of it simply by purchasing some Rainn Wilson merch — or by visiting www.lidehaiti.org to donate directly.