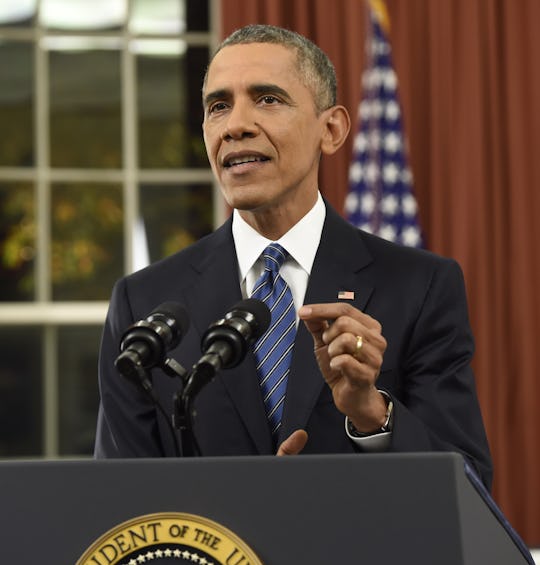 Getty Images
Ralph Peters & Stacy Dash Suspended By Fox News For Crude Language Around Obama's Speech
After President Barack Obama's speech about terrorism on Sunday night, Fox News suspended Ralph Peters and Stacy Dash, a periodic commentator and host, respectively, for making really inappropriate comments about the President's take on current events. On Fox News, retired Lt. Col. Peters called President Obama a "total p**sy" for not taking a more aggressive stance on terrorists. Reviewing Obama's speech this on air this morning, Stacy Dash, a co-host of Fox's Outnumbered, said:
I did not feel any better. I didn't feel any passion from him.I felt like he could give a s**t – excuse me, like he could care less. He could care less.
Remember when Stacy Dash just wore really great hats on Clueless?
Peters apologized on air when prompted, and while Dash did not say she was sorry, she did tweet that she accepted the consequences of her actions. Still the comments weren't acceptable. This is an all-around bad showing. Apparently, Fox News felt the same way. The network has suspended both contributors for two weeks for their comments. Romper reached out to Fox News Monday for comment but did not immediately hear back. Bill Shine, Fox senior executive vice president of programming said in a statement to Talking Points Memo:
Earlier today, FOX contributors Lt. Col. Ralph Peters and Stacey Dash made comments on different programs that were completely inappropriate and unacceptable for our air. FOX Business Network and FOX News Channel do not condone the use of such language, and have suspended both Peters and Dash for two weeks.
The videos aren't nice, so turn down the volume if you have kids around:
Fox News is no stranger to criticizing Obama, but profanity like this is out of character, even for the conservative network.
Responses to the suspension varied. Fox News' own Howard Kurtz criticized Dash and Peters' behavior and also relayed the news that they had been suspended:
But there were also calls to #BringThemBack and boycott Fox news until the two contributors are reinstated:
It's a sign that the political climate has gotten a little bit out of control when cable news hosts feel comfortable enough to use such offensive language on air, with no expectation of punishment. If even Fox News agrees that Peters' and Dash's language was out of hand, it might be time for a reality check on how civil our public discourse is — or isn't. Maybe it's actually a blessing that Peters and Dash spoke out so candidly, if it prompted Fox to reexamine what kind of behavior it will and will not allow.
Image: Pool/ Getty Images; YouTube (2); Giphy (1)