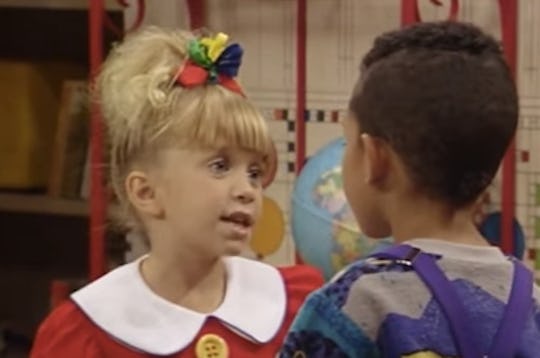 Warner Bros.
Ramona Calls Out Tanners For Being The "Whitest Family" On 'Fuller House', & She's Not Totally Wrong
Kimmy Gibler has long been the comedic relief of Full House and sometimes, oddly enough, a voice of reason. Now, Kimmy has a daughter, Ramona, who isn't afraid to drop some truth bombs. Like letting the Fuller House audience knows the Tanners are, "the whitest family in America." But she doesn't let up, either. She says they're like "albino polar bears. Drinking milk. Watching Frozen." And, the truth is, she's not wrong.
The main cast consisted of only white actors, and there were barely any people of color in the first dew seasons, except that time Steve Urkel showed up. Later in the series, Michelle Tanner had two friends, Teddy and Denise, who were black, that sit with her at school. (Teddy was played by Tahj Mowry and Denise was played by Jurnee Smollett, who you might recognize from Friday Night Lights. Talk about worlds colliding.)
They were more than token characters, but they didn't make an appearance on the show until Season 6 and were written out without explanation. So, yea. Full House is pretty darn white. But they have finally caught up with the world, and not just because they have cell phones and say things like "on fleek." In a pretty amusing plot twist, Kimmy married a man from Argentina (who is, stereotypically, a ladies man and a great dancer) and together they had a bilingual daughter.
Yes, Spanish is echoing in the halls of the old Tanner house. They really seem to be making up for the lack of diversity on the original series with Ramona. They take it one step further and don't translate her Spanish conversation, either. Granted, she isn't saying anything too difficult — just complaining about her mom and making one liner jokes — but the producers left the subtitles out. They seem to making a very clear statement: this is America 2016 and people should understand what loca means.
It's good that they've finally caught up with the times in the Tanner fam. Now let's just hope they keep it going through the series.