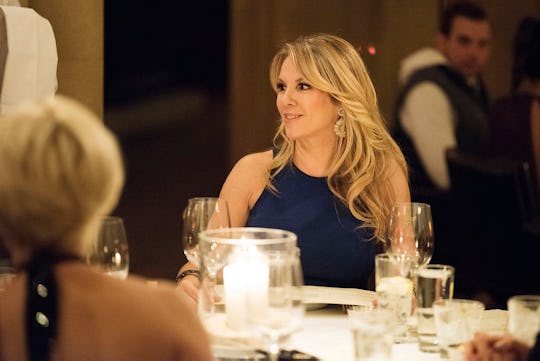 Dave Kotinsky/Bravo
Ramona Singer & Dorinda Medley's Psychic Reading On 'Real Housewives' Brings Drama
On Wednesday's episode of The Real Housewives of New York, Carole Radziwill set up a meeting for her friends with a psychic, and absolutely everything hit the fan. In Season 7, the ladies' coffee grounds reading resulted in emotional moments from Carole, Dorinda Medley, and Heather Thomson. It went so well that apparently Carole wanted to recreate it, but the results this time around were much different. This psychic reading resulted in a ton of drama from Ramona and Dorinda.
Soon after giving Jules Wainstein a quick reading — she's coming into her purpose as a role model for women in case you were wondering — the psychic turned to Dorinda, who is apparently very popular with the other side. According to the psychic, Dorinda's late husband Richard came through, and he had some opinions about John. "He's good for now," the psychic said Richard thought. And according to her face, Ramona agreed. When Dorinda asked if she'd get married again, the psychic responded bluntly, "It won't be to John." Ramona, being Ramona, couldn't help herself and blurted out, "Thank God." And this launched a tirade of anger and vitriol from Dorinda, who moments ago had been quite calm. As Carole remarked, Ramona lit the match, but Dorinda stoked the fire.
The drama between Dorinda, John, and Dorinda's friends has been steadily growing for the past six episodes. By this time, it's pretty clear that the other 'Wives are not huge fans of John's, and Dorinda is clearly over it. Perhaps this frustration is the reason Dorinda raised her voice and said bitingly about Mario, "Oh, that's right. He left you for someone else." Ouch, Dorinda. I get that you're hurt but that was pretty low.
But her attitude completely shifted gears when the psychic began reading Ramona. Ramona's father came through, apparently, and she quickly burst into tears. Fans have heard a little about Ramona's troubled relationship with her father, but it is still clearly a serious issue for her. Seeing her tears, Dorinda cooled off, and got up to give her friend a hug. Ramona apologized, as Ramona does, and the two hugged it out.
But Ramona hasn't changed her mind about John, and Ramona has never been really gifted at holding her tongue. So hopefully this truce will last, but my best guest is that it will only hold as long as Ramona keeps her opinions to herself.