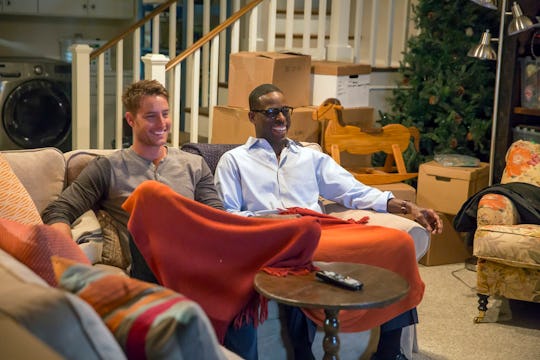 Ron Batzdorff/NBC
Randall & Kevin Fight On 'This Is Us' & Put A Long Feud To Rest
Being an only child, I don't know what it's like to have siblings. Growing up, I never had to share my toys or clothes with anyone. The spotlight was mine and mine alone. And as ideal as that may sound, especially to those who actually do have siblings, I found myself wishing for a brother or a sister. Someone to spend time with while my parents were busy fulfilling all of their adult responsibilities. It's a classic case of always wanting what you can't have, but regardless of whether I have siblings or not, I can understand how difficult it can be at times to get along. Which is a big part of what made the fight between Randall and Kevin on This Is Us so interesting and relatable.
It was clear right from the start that these two characters didn't get along very well, and Tuesday night's episode only made that point more clear. Whether it was through the multiple flashbacks of watching Randall attempt to befriend his adoptive brother only to get rejected time and time again, or watching the adult versions of them struggle with their 36-plus years of baggage, viewers could tell these two had some issues to work out. And what better way is there to do that than to get into a fight in New York City in front of Seth Meyers himself? (No, really, he was there!)
It all started when their mom cancelled on her dinner plans with the two of them, forcing Randall and Kevin to spend some quality time with just each other. It all came to blows when Kevin realized Randall had never watched him in The Manny, even though he himself hated the show. He felt it was an insult, so he stormed off. But Randall was not having it and brought to light how much resentment and hatred he's felt from Kevin all of his life. And Kevin didn't deny it.
He was jealous that their mother always gave Randall all of the care and attention he felt should've been meant for him. To him, this was because Randall was adopted, so she wanted to make sure he felt loved and special, which took away from the time she could've focused on Kevin. One thing led to another and the two of them started fighting in the street. But it was when Kevin told Seth Meyers that Randall was his brother that really started to turn things around.
According to Randall, that was the first time ever that Kevin had ever said that to other people — the first time Kevin had ever claimed him. And while yes, their mom did give him more attention and he soaked it up for all it's worth, that was only because the one person he wanted the attention and approval of most (from Kevin) he wasn't getting. But now that everything is out in the open, this relationship may have a chance of changing for the better. They still have a long way to go and a lot of time to make up for, but they're much closer to getting there than ever before. And that's something to be thankful for.