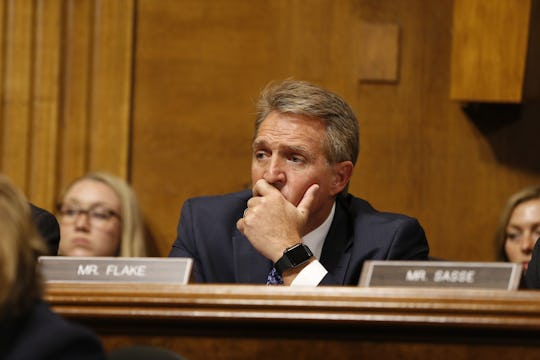 Pool/Getty Images News/Getty Images
Assault Victims Confronts A Republican Senator & The Video Is Extremely Emotional
On Thursday, Dr. Christine Blasey Ford sat before the Senate Judicial Committee to testify against Brett Kavanaugh, who is currently nominated for the Supreme Court. Blasey Ford alleges that Kavanaugh sexually assaulted and physically abused her when they were in high school together, and argues that this is important to disclose as he's positioned to potentially hold a lifelong term in the position of presiding over justice and law. Opposition to Blasey Ford and the disbelief/disregard to her assault has made the situation a rallying cry. That's why these rape victims confronted Senator Jeff Flake after he announced he's voting for Kavanaugh, and it's a really powerful moment.
CNN reported that women confronted Flake in an elevator, while the door was held open, inquiring whether or not understood that voting in Kavanaugh communicates that he condones this kind of behavior.
"That's what you're telling all of these women, that's what you're telling me right now. Look at me when I'm talking to you. You're telling me that my assault doesn't matter, that what happened to me doesn't matter, and that you're going to let people who do these things into power," one protestor said to Flake. That's what you're telling me when you vote for him. Don't look away from me. Look at me and tell me that it doesn't matter what happened to me, that you'll let people like that go into the highest court of the land."
NPR reported today that Flake, who is an Arizona senator, has cast is ballot for Kavanaugh's confirmation, and he voted "yes." The nod likely means that Kavanaugh will be voted into the position.
"What I do know is that our system of justice affords a presumption of innocence to the accused, absent corroborating evidence. That is what binds us to the rule of law," the network reported Flake said. "While some may argue that a different standard should apply regarding the Senate's advice and consent responsibilities, I believe that the constitution's provisions of fairness and due process apply here as well."
Buzzfeed News reported that, this morning, Flake released a statement in which he explains that he isn't entirely convinced of Kavanaugh's innocence, but that at the same time, he won't allow that to stop him from voting yes. "I wish that I could express the confidence that some of my colleagues have conveyed about what either did or did not happen in the early 1980s, but I left the hearing yesterday with as much doubt as certainty," he said.
The New Republic then reported that this shouldn't entirely come as a surprise, as the vote is consistent with Flake's record. The site reported that FiveThirtyEight's congressional tracker states Flake votes along party lines, and with the President's agenda, 83.6 percent of the time.
On Thursday, CNBC reported Blasey Ford testified that Kavanaugh "groped me and tried to take off my clothes." She was asked to recall specific details from the night of her assault, and did so as follows:
He had a hard time because he was so drunk, and because I was wearing a one-piece bathing suit under my clothes. I believed he was going to rape me. I tried to yell for help. When I did, Brett put his hand over my mouth to stop me from screaming. This was what terrified me the most, and has had the most lasting impact on my life.
Though the Senate as a whole still has to vote on Kavanaugh's confirmation, one ballot in as a "yes" makes it more likely that he will get through. The voting will continue today, September 28.