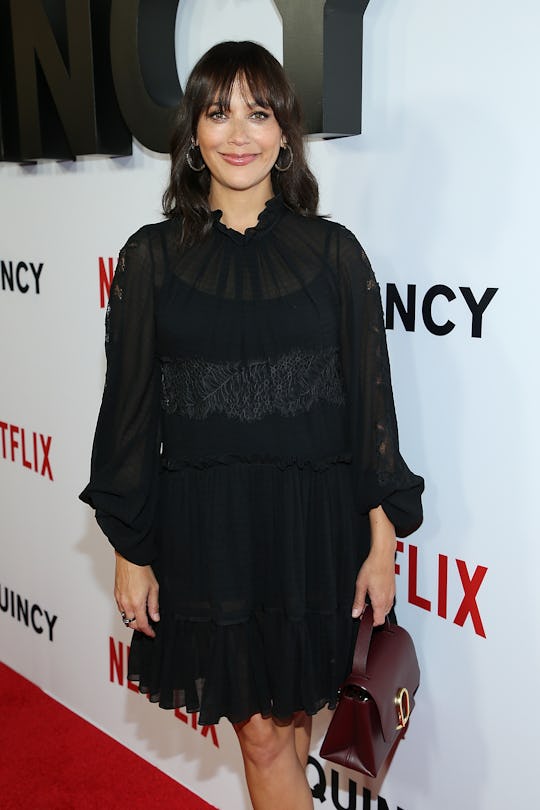 Phillip Faraone/Getty Images Entertainment/Getty Images
Rashida Jones Gave Birth To A Baby Months Ago
Over the years, Rashida Jones has managed to keep her life pretty private amidst the Hollywood gossip circuit. But considering the fact that she is still a famous Hollywood actress, it's an amazing feat that she was able to keep a secret like this. According to a new report, Rashida Jones gave birth to her first child several months ago.
Us Weekly broke the news Wednesday morning that Jones, 42, and her boyfriend, Ezra Koenig, 34, welcomed a baby together in secret earlier this year. Koenig is the lead singer of Vampire Weekend, and he also worked on Beyoncé's Lemonade, according to Pitchfork. No other details have been released about the birth or the baby, but the news is still so exciting. Jones' representatives did not immediately respond to Romper's request for comment.
In May of this year, Jones opened up about the lengths she has gone to in order to maintain her privacy. "I am pretty fierce about my privacy. I have made career choices to protect it," she told Net-a-Porter. "I stopped going after big movies because what comes with it is they want you to be as famous as possible. I don't have the constitution to battle that." At the time of the interview, Jones was likely either pregnant or a new mom.
A little internet investigation reveals that Jones and Koenig were first spotted hanging out back in December 2015, at an early New Year's Eve dinner hosted by the band Haim, as seen in photos shared by Bon Appétit at the time. And a few months earlier, in July 2015, Koenig interviewed Jones for "Time Crisis with Era Koenig," his Apple Beats 1 radio show, Billboard reported.
Now that the rumored couple has started a family together, could wedding bells be in their future? In a 2014 interview with The Guardian, Jones explained that she used to dream about getting married and having children; however, over the years, she became comfortable with the alternative. She told the newspaper:
I had the full princess fantasy: the white horse, the whole being saved from my life, which is ridiculous. What do I want to be saved from? My life's great! But it's just this weird thing that's been hammered into my head culturally: that's the only way to succeed, that's the only thing that counts for a woman. I'm happy, but the fact that I'm not married and don't have kids – it's taken me a long time to get to a place where I actually am OK with that, where I actually don't feel like I'm some sort of loser.
Jones and Koenig have both opened up about their family lives in the past. Jones' parents are actress Peggy Lipton and record producer Quincy Jones. She has a sister and five half-siblings who she told Net-a-Porter she spends a lot of time with, and she also co-produced and co-wrote Quincy, a documentary about her father that was released last week, IMDb noted.
In a 2008 interview with Westword, a local newspaper in Denver, Koenig opened up about his parents. The musician has a lot of appreciation for his mom, who was a family therapist, and it seems like he learned a lot about parenting from her. He told the outlet:
But the older I get, the more I can appreciate that my mom has always had her s—t together and would always give me very reasonable advice about how to deal with people and stuff like that ... But on the whole, it was nice to have someone who spends most of their life thinking about the best way to talk to people and the way people interact. That's good for a home environment, I think.
Congratulations to the new parents!