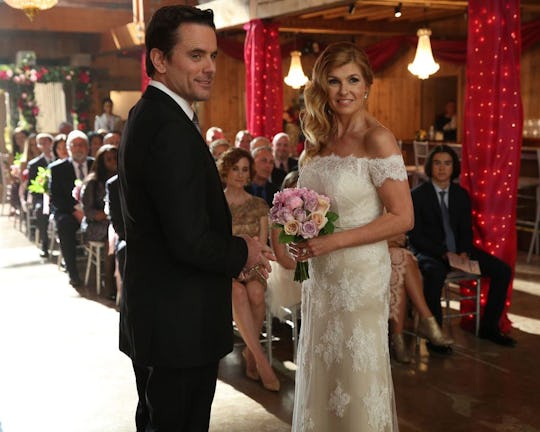 Mark Levine/ABC
Rayna & Deacon Get Married On 'Nashville,' But Is It Happily Ever After?
It has been a long and difficult road for Rayna Jaymes and Deacon Claybourne on Nashville, but fans can finally rest easy because the two country songbirds have finally made it down the aisle. To say that their relationship is complicated would be an understatement. The two have been through a lot together, but the show's return also brought happy memories about how great these two are together. And it brought a wedding! Yes, Rayna and Deacon got married on Nashville, so you can believe in love again and believe that all of your prayers were answered by the Nashville Gods.
Unfortunately, not everyone was thrilled with the wedding. Maddie and Daphne both had issues during the midseason premiere of the show, since they both struggled with bringing Deacon back into their lives, completely. Maddie, specifically, had a tough time seeing beyond some of Duncan's past indiscretions before her mom and dad walked down the aisle.
This isn't the first time that Deacon has proposed to Rayna. But, unlike other tries at marriage, this time was different. As TV Line points out, Deacon was neither "drunk nor dying" when he proposed to Rayna this time, which definitely bodes well for their future, right?
The wedding itself was perfect. The two had been planning for Rayna's dream wedding but had to push it up because of a media leak. Despite the short notice, this wedding was a thing of beauty. Seriously, it makes all of our Pinterest wedding boards look like bad magazine cut-outs. I don't know what the planned wedding would have looked like, but if this is the "quickie" wedding that was planned last minute, then damn.
Everyone attended the wedding that needed to be there, with the exception of Juliette. Avery, Gunnar, Scarlett, the gang was all there supporting the love of these two... but is that love going to last? Look, Rayna and Deacon have been through hell and high water. Now that they're together, let's keep them together. The storyline of them breaking up and getting back together on repeat is exhausting. Plus, this wedding was perfect. Let's not ruin it with potential problems in the future, please?