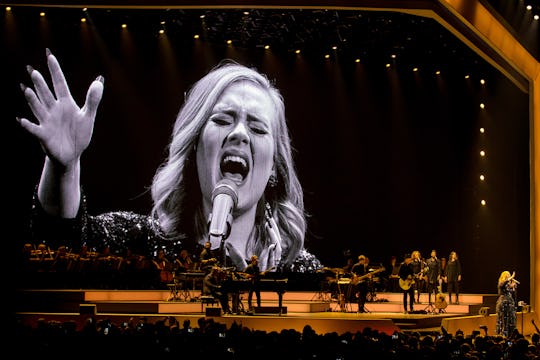 Philipp Schmidli/Getty Images Entertainment/Getty Images
Reactions To Adele's "Send My Love" Video At The Billboard Music Awards Praised The Singer
Our love for Adele knows no bounds. Now, the Queen is back at it again with another killer video. If you still have any doubt whether the British singer is the queen across the pond (and pretty much everywhere else), internet reactions to Adele's new music video for "Send My Love (To Your New Lover)" spoke volumes enough. The powerhouse singer, known for her tear-inducing songs, premiered her latest video at the Billboard Music Awards on Sunday and already, everyone is betting she has another record-breaking hit on her hands.
Adele teased a clip of her new video via Twitter on Monday. In the clip, the British singer, clad in a floor-length floral gown, strikes a sassy pose—hand on her hip, natch—face full of emotion. The tease was masterful, and now that we've got a look at the full length music video, we are dying.
"Send My Love" starts as a minimalist's dream; Adele is standing in front of a plain black background in her floral dress. After a moment, though, Adele's image becomes double-exposed, with one Adele layered over another and then another. Soon, there are three Adeles moving independent from each other all fading into each other. It's pretty trippy.
While other artists choose to tell a story or flaunt their dance moves in their music videos, Adele's videos showcase her dynamic voice and emotionally poignant lyrics using dramatic visuals, and "Send My Love (To Your New Lover)" is no different. Directed by Patrick Daughters, the video was shot in London, the singer's hometown.
"Send My Love (To Your New Lover)" was co-written and co-produced by hit producer Max Martin, the musical master behind Taylor Swift's hit pop album 1989, and Shellback. The single is said to be a musical kiss-off to Adele's ex in a tone reminiscent of songs like "Rolling in the Deep" and "Rumor Has It" off the singer's first two albums 19 and 25. While not the powerhouse emotional ballad that "Hello" or "Someone Like You" are, Adele's new single is a fun little ditty that is sure to get you bopping in your seat.
This is the third single and second music video off the Brit's 2015 album 25—she didn't film a video for her second single "When We Were Young." The singer crashed back onto the music scene after a four-year absence with hit song "Hello," the lead single off her newest record. Adele's "Hello" music video reached 100 million views on YouTube within five days becoming the second fasted video to hit that number in the platform's history.
Considering how well the artist's last video was received, I wouldn't be surprised if "Send My Love (To Your New Lover)" smashes records on its rise to number one. Fans are already loving the "Send My Love" video. Here are some of the Internet's best reactions so far:
After watching "Send My Love (To Your New Lover)," it's clear that Adele's reign as one of the Queens of pop is going strong. Her new music video is unique and artistic but doesn't overpower a truly delightful tune.
It is worthy of the Goddess herself. If you need me, I'll just be here drowning in Adele's slayage.