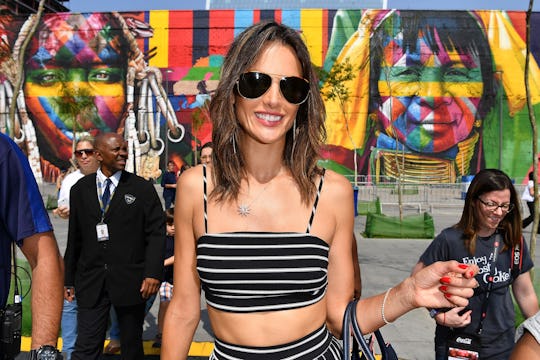 Pascal Le Segretain/Getty
Reactions To Alessandra Ambrosio At The Closing Ceremony Show She's Truly A Queen
The Olympic games in Rio are drawing to a close, and Rio decided to end its closing ceremony with a bang, in the most Carnivale-esque way possible, complete with a giant float, colorful vegetables (?), music, dancing women in skimpy outfits, and hey! Is that Allesandra Ambrosio? Twitter reactions to Allessandra Ambrosio at the closing ceremony show that this lady has fans all over the world, and that they think she is a Queen.
Though fellow Brazilian supermodel Gisele Bündchen appeared at the Rio opening ceremony in a long catwalk, she unfortunately could not make it to the closing ceremony. Both models have become practically household names in the United States thanks to working as Victoria's Secret Angels, who exist in a sort of microcosm of their own, so beautiful and charismatic they seem hardly human.
Ambrosio is no different, and eagle eyed viewers were quick to spot that that was indeed her with the wings dancing with the street sweeper. Looking flawless, of course, and totally at her ease, as the wings she was wearing were not at all dissimilar to the wings worn at Victoria's Secret fashion shows by the "angels." Perhaps the most impressive aspect of this is that she looks this flawless and graceful while in heels.
There was no official announcement that Ambrosio was going to be a part of the closing ceremony, so you can be forgiven if you didn't realize that she was even there at first. Once we all did realize who it was it was obvious that the model was having a great time. And that she's been hiding some sick dance moves.
Ambrosio and fellow model Adriana Lima have already taken part in some ceremonial Olympic duties this year. Before the games began, the two of them were among those who ran with the Olympic torch around the city of Rio de Janeiro. They also filmed some segments for NBC's food and culture coverage of the Olympics with Ryan Seacrest.
Ambrosio is clearly very proud of her home country, and proud to be a part of the ending celebrations. And who wouldn't be? She looks like she's having the time of her life.