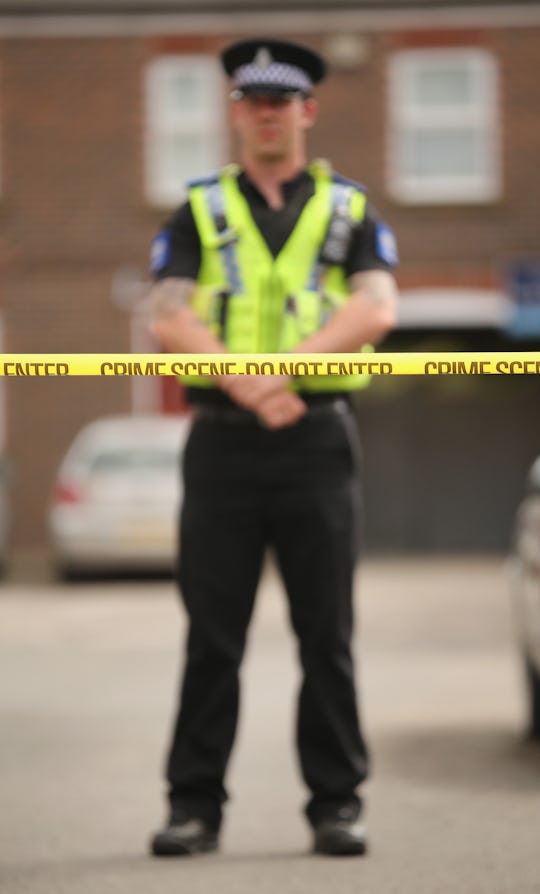 Christopher Furlong/Getty Images News/Getty Images
Reactions To Alton Sterling's Death Show The Continued Outrage Over Police Violence
Alton Sterling, a 37-year-old black father in Baton Rouge, Louisiana, was pinned down by police and shot to death early Tuesday. A graphic video shows Sterling's death outside a convenience store, and reactions to Alton Sterling's death show the continued outrage over police violence and how it affects black lives.
A bystander captured a video where Baton Rouge police officers can be seen tackling and pinning Sterling down before firing their guns (the graphic video footage can be viewed here). Sterling was a father of five, who was known to sell CDs around the convenience store where he died, according to a report by the NY Daily News. He was known as the "CD man," the report added. In a video captured by MSNBC, Sterling's 15-year-old son can be seen crying over the loss of his father, as his mother speaks during a press conference on Wednesday morning regarding Sterling's death.
According to NBC News, protesters gathered outside the convenience store where Sterling died early Tuesday morning chanting "black lives matter," and holding signs reading "honk for justice."
In a statement released Wednesday, Rep. Cedric Richmond of Louisiana, said the released video footage has had a deep impact on the community:
"The video footage released today of the shooting of Alton Sterling by officers of the Baton Rouge Police Department was deeply troubling and has understandably evoked strong emotion and anger in our community," the statement read. "I share in this anger and join the community in the pursuit of justice. My prayers and thoughts are with Mr. Sterling's family as they deal with this tragedy."
Many have used the hashtag, #AltonSterling on Twitter to express their outrage over Sterling's death, and how it's yet another somber acknowledgement of the black people who lose their lives to police violence. A Vox report last year analyzing FBI data, suggested that black people in the United States were killed by police at disproportionate rates:
They accounted for 31 percent of police shooting victims in 2012, even though they made up just 13 percent of the US population. Although the data is incomplete, since it's based on voluntary reports from police agencies around the country, it highlights the vast disparities in how police use force.
A statement released by the Baton Rouge Police Department on Facebook, stated that the officers responded to a disturbance call saying a black male selling CDs threatened the caller with a gun:
Baton Rouge Police are investigating an officer involved shooting that occurred around 12:35am this morning at 2112 North Foster Dr, Triple S Food Mart. Uniformed officers responded to a disturbance call from a complainant who stated that a black male who was selling music cd's and wearing a red shirt threatened him with a gun.
"An altercation between Sterling and the officers ensued," the statement continued. "Sterling was shot during the altercation and died at the scene." Two officers from the Baton Rouge Police Department were placed on administrative leave "per standard procedure," according to the police department's statement.
Sterling reportedly died at the scene from multiple gunshot wounds to the chest and back, according to William Clark, the coroner of East Baton Rouge Parish, The New York Times reported.
The footage of Sterling's death is unquestionably hard to watch – it's yet another video circulating the internet showing the death of a black life at the hands of police. Choosing to watch the horrific video is a personal choice, but it continues to be important for everyone to remain informed on the Black Lives Matter movement, and why it's so evidently needed.